The All-Star blog is back for one more day. It will be updated over the next several hours leading up to the first pitch of tonight's All-Star Game.
7:56 p.m. ET
The festivities are about ready to begin. It should be a stirring pregame ceremony. Check out our GameCast chat while the game is in progress, and enjoy the game!
--D.K.
7:12 p.m. ET
Batting practice had just concluded for the American League and Josh Hamilton trotted over to the stands behind home plate. It was there where he patiently autographed baseballs, tickets, hats, gloves and whatever else any fan could find. The interaction between Hamilton and the fans -- most of whom were either Yankees or Mets fans -- was touching. Numerous fans told Hamilton how appreciative they were of him, and you could see on their faces how much he is a symbol of hope.
"Josh, you're the man," one Yankees fan said with a thick New York accent. "Nobody else is [signing autographs]. You're the man, Josh."
James Lipton, the host from "Inside the Actors Studio," was coincidentally in the middle of this entire scene, looking on. Hamilton told the fans they didn't have to yell his name; he'd try to get to as many people as he could. He moved up and down the warning track, signing, smiling and conversing with little kids.
"What a good guy," one Yankees fan said to another. "A-Rod wouldn't do this."
--Amy K. Nelson
6:48 p.m. ET
Under partly cloudy skies here at Yankee Stadium, the National League team is on the field taking batting practice until 7:15 p.m. After that, the pregame ceremony is scheduled to begin at 7:45 p.m. and feature around 50 Hall of Famers, which -- according to the pregame notes -- will be the largest collection of baseball stars in history. Each of the stars will apparently enter the playing field from Monument Park (how appropriate). They will emerge through an opening in the left center-field fence covered by a burgundy-colored curtain. It remains to be seen if the ceremony will be as emotional or riveting as the one at Fenway Park featuring Ted Williams in 1999, or even last year's tribute to Willie Mays in San Francisco. But remember that this is New York, and we're here largely to celebrate the final passing of the greatest sports venue in history not named the Colosseum. So expect the ceremony to tug at some heartstrings, put a few lumps in the throat, and resonate with all baseball fans, not just those with a passion for pinstripes. Really, a celebration of Yankee Stadium -- a place that has housed so many great players, great teams and great moments -- is a celebration of baseball.
--David Kull
5:57 p.m. ET
This is a big All-Star Game for Canada, with native sons Ryan Dempster and Russell Martin on the NL roster and Justin Morneau on the AL squad. Dempster and Morneau are British Columbia guys. Martin grew up in the baseball bastion of Montreal, playing ice hockey and riding the subway to Olympic Stadium with his father to watch Larry Walker, Marquis Grissom and the Expos. Dempster joked that the Canadian players all got together in spring training and agreed to give 100 percent -- instead of "the usual 98 percent'' -- just so they could enjoy the honor of playing in the final All-Star Game at Yankee Stadium. "There aren't a lot of us,'' Dempster said. "There's a small percentage in the league, so to see three of that small percentage make the All-Star team is a lot of fun. It's nice that we can go out there and laugh and all speak Canadian to each other out on the field.''
--Jerry Crasnick
5:14 p.m. ET
Yankees general manager Brian Cashman just addressed reporters on the field, and he had pessimistic news on left fielder Hideki Matsui. Matsui has had swelling in his left knee, prompting the Yankees to cut short his rehab in Florida. He will fly back to New York and meet with team doctors Friday. "I'm [now] less optimistic we're going to get him back," Cashman said. Cashman indicated he thought the next step likely would be season-ending surgery, although he said he held out slim hope Matsui might be able to heal. "He should be ready by spring training if he has surgery, but he'll be out for the year." When asked whether he would consider signing Barry Bonds, Cashman hesitated but didn't completely dismiss the notion. "I would say that any rampant speculation involving a player of that magnitude would be extremely premature." Cashman added he thought Johnny Damon would progress with his sore shoulder, although Damon did sleep on it the other night and felt some discomfort.
--Amy K. Nelson
4:45 p.m. ET
The clubhouses here opened at 4 p.m., and the differences in scene were clear. The Yankees' clubhouse (home to the AL players for the All-Star Game) was fairly loose, with space for players and journalists to move. Then the clubhouse was closed for a team meeting, and the media migrated to the much smaller NL clubhouse. With barely room to move, most of the players were hidden in the back. I was able to catch up with Rangers shortstop Michael Young, and he marveled at how there were any doubts about what teammate Josh Hamilton had done Monday night in the Home Run Derby. "You really have no idea, do you?" Young said he previously had told reporters in response to questions about whether Hamilton could handle pressure of the Derby. "My only point was, they don't see other players who play in smaller media markets. I see this guy every night -- and I was just like, 'You really don't know.' "There wasn't a doubt in my mind that he was going to put on a show last night." Young has enjoyed his All-Star experience. He went out to dinner at STK on Monday night with his agents and a group of seven players and got out at 3 a.m. -- a long dinner. He'll fly back home to Dallas with teammate Ian Kinsler after the game. When asked if they were splitting the tab, Young smiled and said he refused Kinsler's offer to help pay. The veteran picked it up.
--Amy K. Nelson
4:40 p.m. ET
Forty years ago in the All-Star Game, you had the dream matchup of Tom Seaver versus Mickey Mantle, with the young up-and-comer striking out the over-the-hill legend in a ceremonial changing of the guards from one New York baseball legend to another. One of the neat things about the All-Star Game is that you can see a lot of things that normally wouldn't happen in regular baseball play. Interleague play has taken the luster off some of these matchups, but there still are intriguing possibilites for tonight.
Name's (Almost) The Same: Roy Halladay vs. Matt Holliday
The Rockies and the Blue Jays have faced off in each of the past two seasons, but there never has been a matchup of Halladay versus Holliday (or Doc versus Holliday, for the music lovers), since Halladay didn't pitch on either occasion. Yet this could mark the second time they've faced off in All-Star play (Holliday grounded out against Halladay in 2006). Halladay does have a good history against Rockies hitters. In 2002, he beat them in Toronto by pitching a two-hit shutout.
Could Have Been Teammates: Scott Kazmir vs. David Wright
Scott Kazmir was drafted by the Mets in 2002, one year after David Wright. The two never played in a major league game together, thanks to the crazy deal that sent Kazmir to the Rays for Victor Zambrano, and they've never played against each other in a meaningful game, thanks to the scheduling quirk by which the Rays haven't played the Mets since 2001. Wright has a sense for how he can do right by Mets fans (he grew up one); he previously homered against Kenny Rogers in All-Star play. But it might be a little harder to catch up with one of Kazmir's fastballs.
West Coast Power vs. East Coast Power: Tim Lincecum vs. Alex Rodriguez and Manny Ramirez
Looking for the best matchup of an up-and-coming pitcher versus megastars? How about seeing whether A-Rod and Ramirez can catch up to a 98 mph Lincecum fastball? Lincecum has averaged better than a strikeout per inning, and he likely will try to impress those watching by trying to blow away a couple of big names.
Who Got The Better Deal?: Edinson Volquez vs. Josh Hamilton
It wasn't that farfetched to think that Hamilton could be an All-Star someday, but based on Reds starter Edinson Volquez's previous work, the odds seemed longer for him, even though he was the key to the deal that sent Hamilton to the Rangers. Now the two go head to head, and since they'll be measured head to head for perhaps the next decade, this seems like a good place to start.
Didn't I Know You?: Brandon Webb vs. Carlos Quentin
The first time Quentin homered in a major league game, it was 2006 and he did so in support of Webb, who was then his teammate. Quentin, dealt to the White Sox in a trade that was barely noted during the offseason, since has evolved into one of the majors' best home run hitters. He'll be hard pressed to lift Webb's sinker, though. Other intriguing possibilities you could see at this year's All-Star Game: • Could Manny Ramirez "ram" a grounder through the shortstop-third base hole, between Hanley and Aramis Ramirez? • Could one Japanese-born outfielder fly out to another (Kosuke Fukudome/Ichiro Suzuki)? • Could a double play be turned, from a Red Sox player (Dustin Pedroia) to a Yankee (Derek Jeter) to another Red Sox player (Kevin Youkilis)? • Could Rule 5 draftee Joakim Soria pitch to Rule 5 draftee Dan Uggla? And could Uggla then hit the ball to Rule 5 draftee Josh Hamilton? • Could Billy Wagner set up for Brad Lidge, returning the favor from when the two were teammates in Houston? • Could the final play of the game be a ground ball hit to Lidge, who then would flip to 2005 NLCS rival (and home run hitter) Albert Pujols for the out?
--Mark Simon
2:52 p.m. ET
A first-time All-Star got to Yankee Stadium tonight because of an adjustment in his approach at the plate. Pirates outfielder Nate McLouth finally got a full-time starting job this season, and while not having to worry about an 0-for-4 day resulting in a seat on the bench in the next contest has helped, McLouth has learned to be a little more focused on waiting for pitches that he can drive instead of pitches he can merely make contact with. "I think that you can put almost every pitch in play somehow," McLouth said, "but there's a difference between hitting the pitch you want to hit and hitting the pitch that the pitcher is trying to get you to hit." "You go through spurts, but overall I think I've been pretty consistent in doing that, and it's definitely my approach at the plate right now." As a result, McLouth has raised his batting average more than 20 points and his slugging percentage more than 80 points to earn a trip to New York.
--Jason Grey
2:20 p.m. ET
I'm in front of the Radio City Music Hall on Sixth Avenue watching MLB's "Red Carpet parade." An estimated one million fans are lining the street from 40th Street to Central Park as 49 Hall of Famers and all of the All-Star players are being driven down the carpet-lined street in the backs of Chevy Silverados. The players are all wearing street clothes and have their families with them. A-Rod just passed, getting a nice response from the crowd and a brief visit from a female admirer, who somehow hopped the barrier to greet him. Wearing a stylish dark suit on an 85-degree day, A-Rod looked as though he was enjoying the experience. He had an unidentified man with him in the truck, for what it's worth. Derek Jeter passed by a few trucks before A-Rod, and had his parents with him, his mom operating a digital camera to get shots of the crowd. No one had a bigger smile than Mariano Rivera, pointing to people chanting his name, soaking it in with his family, playfully tossing a toy ball back to someone in the crowd. The face will become stoic again tonight when Terry Francona hands him the ball in the ninth inning. When Scott Kazmir passed, some people in the crowd near me were pointing to a window on the GE building behind us. And looking down from the fourth floor was Mr. Met -- obviously wondering what could have been. His expression might never change, but I still believe he looked a bit forlorn. Last but not least was the real star of the moment, Josh Hamilton, who had his wife and two young girls with him. He raised his hands to the crowd, giving a thumbs-up to those calling his name. Hamilton looked full of life, still energized from his exploits the night before. It might be safe to say that New Yorkers, so smitten with and protective of their players, have never embraced anyone like Hamilton, an athlete who's never played here, who's never been one of them. While other current stars and all-time greats are following the same route as Hamilton today, the people here understand he's taken a different path than most to get here. And there's hope in knowing that some heroes can be lauded and celebrated and praised beyond the logo on their hat, especially in a tough, unforgiving place like New York.
--David Kull
1:30 p.m. ET
As I continued my quest for the best All-Star party, I found it Monday night at the nightclub Marquee. It was Michael Jordan and Derek Jeter's bash, and, as expected, the turnout was overflowing.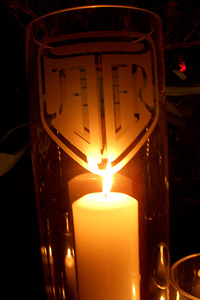 Sure, there were other parties (A-Rod and Jay-Z at 40/40, David Ortiz at Hudson Terrace), but we stuck to the A-list party of the evening. I arrived around 11:30 p.m. and found the club completely packed. Logos with Jeter's name were plastered all over the club, including on pillows and candles. By the end of the night, I saw people leaving with Jeter pillows. There were three rooms: the main club where hip-hop played, an upstairs bar area with another DJ and the VIP room, where my colleague Matthew Berry (he clearly has all the pull) shepherded us. Jeter and Jordan were hunkered down in the corner, surrounded by a bevy of bodyguards and people wanting to be in their presence. Looking around the room, I saw that Jeter's former teammates Wade Boggs and Tino Martinez and current teammate Joba Chamberlain were there; All-Stars Chase Utley and Joe Nathan also showed up, as did one of the bodyguards for Kanye West (no word on whether the singer planned on making a late appearance), the singer Mya and the overweight actor (Ken Davitian) from "Borat." I'm sure there were plenty of other celebrities, but with so many people packed into a small space, it was difficult to tell. At one point during the night, Jeter needed a bathroom break, and he had four people assist him through a red velvet curtain to the makeshift bathroom in the back parking lot of the club (yes, he was allowed to cut in line). It was getting so crowded (and, inexplicably, security had removed the velvet rope blocking off the VIP area) that we decided to leave. It took almost 10 minutes to get out of the club due to the number of people in it. We headed just around the block, where Torii Hunter and Mariano Rivera were hosting a party at the Pink Elephant. I saw Hunter -- who flew in for the day -- just long enough to say hello; he was off to Jeter's for a late-night appearance.
--Amy K. Nelson