Baylor's tourney hopes live another day
March, 13, 2009
03/13/09
11:01
PM ET
OKLAHOMA CITY -- The thought was amazing in its simplicity, but still delicious as Baylor guard
Henry Dugat
stopped for a few seconds to ponder it.
The Baylor Bears won't have many fans among the collective group of college basketball teams that are considered "on the bubble" as far as NCAA tournament hopes are concerned.
[+] Enlarge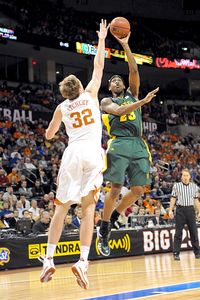 Jim Brown/US PresswireKevin Rogers led Baylor with 20 points.
"That's kind of neat when you realize it," Dugat said. "But we can't let it affect us. We still realize we can win our way into the tournament with just one more win. It's up to us to go out and win our way in."
The Bears charged into the Big 12 championship game for the first time in school history with a dramatic 76-70 victory over Texas, snapping a 24-game winning streak to the Longhorns that had dated back to Feb. 21, 1998.
In the process, they became the first Baylor team to post back-to-back 20-victory seasons in school history and became the first Big 12 team to win their way into the championship with three-straight tournament wins since 2003.
"We came in today with a mindset of accomplishing a task," Baylor guard Curtis Jerrells said. "Today was step three."
Overcoming a 10-point deficit early in the second half, the Bears had the Ford Center rocking in support for them down the stretch. They finished the game on a 15-5 run to punctuate the victory.
It finished off a wild ride for Baylor coach Scott Drew, who said he believed in destiny after the upset.
"I believe in God and I know He can do miracles," Drew said. "I definitely believe in it."
Jerrells, an Austin native who plays with many Texas players during summer playground games away from school, hoped for another chance to beat them after losing both games this season with his best supporting cast.
"Every time we played them, I thought we could beat them," Jerrells said. "This is as good as it gets."
The Bears did a strong job on Texas center Dexter Pittman, who had averaged 22.5 points and 15 rebounds in his two previous tournament games.
But the Bears leaned on Pittman with journeyman centers Josh Lomers and Mamadou Diene, who combined to produce only two points and five rebounds. But their defensive work was remarkable as the mammoth 6-foot-10, 298-pound Pittman was limited to seven points and three rebounds.
"We just knew in our minds we had to get stops," said Baylor forward Kevin Rogers, who led Baylor with 20 points. "Those guys were definitely bigger than us. We had to do what we could to hold them up defensively."
That, in essence, has been the key element in Baylor's recent surge through the tournament. The Bears have received better defense than at any point since early in the season and have allowed their natural strength of offense to carry them.
That streakiness was seen in the second half when the Bears erupted for 13 straight points to claim the lead after trailing by 10 points with 17:53 left. They punctuated the game on a flourish, hitting 12 of their final 13 free throws down the stretch to wrap up the victory.
"Scoring for this team will never be a problem," Rogers said. "We have plenty of players who can score. The biggest thing for us to get intensity and stops on defense and that's what we've been able to do."
Baylor also dominated inside, claiming a 35-27 rebounding advantage. It marked just the fifth time all season that the Longhorns were outrebounded.
"They really pounded us on the glass," Texas forward Damion James said.
The loss likely didn't affect Texas' seeding in the tournament that much. The Longhorns likely should be seeded sixth or seventh when the tournament brackets are announced on Sunday afternoon. But the loss did cost the Longhorns a trip to the Big 12 finals for the first time since 2005.
"I feel good where we are right now," said Texas coach Rick Barnes, whose team claimed two victories in Oklahoma City. "I told our guys this is what we always played for, Texas to be in the NCAA tournament. This is the one that counts."
Baylor players realize they still have to win Saturday to cement their NCAA title hopes. But their soaring confidence gleaned in the last several days has helped them play like they did when they jumped to a 13-2 start and soared in the national polls for six straight weeks.
"I really can't explain it to you where this has come from the last few days," Rogers said. "I wish I had the answer but I'm happy that it did come when it did. We're playing for a Big 12 championship and the task still isn't over for us."