Pondexter matures into major contributor
March, 19, 2009
03/19/09
8:48
PM ET
PORTLAND, Ore. -- Washington's junior forward
Quincy Pondexter
wasn't good enough to go one-and-done, or even two-and-see-you.
[+] Enlarge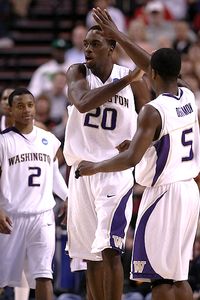 Jonathan Ferrey/Getty ImagesQuincy Pondexter scored 23 points to lead Washington to a first-round victory over Mississippi State.
The Huskies might just stick around in the NCAA Tournament in large part because of that.
Pondexter continued his resurgence in fourth-seeded Washington's surprisingly easy 71-58 win over No. 13 Mississippi State, scoring a game-high -- and career-high -- 23 points with eight rebounds.
It's the fifth time he's scored 20 or more points since Feb. 5. He broke that benchmark just once in the 21 games before that.
A consensus top-100 recruit out of Fresno and part of the Huskies top-10 2006 recruiting class that also featured NBA lottery pick Spencer Hawes, Pondexter was thought a bust in some quarters after two seasons. It wasn't just that his numbers were mediocre. It was that he didn't seem to get it, to possess the aggressiveness required to become a marquee player.
That criticism seems to have made Pondexter fairly guarded when talking about himself. He doesn't like to reveal any vulnerability, but he does admit there were times when his confidence was threatened.
"I didn't let outside sources get to me," he said. "But it hurt sometimes to hear some things said about me. But, in the end-game plan, I envisioned something for myself in the future, not immediately, not how some guys are one-and-done. More the Brandon Roy way. He's turned out really successful."
Roy is the Husky who played through his senior year and now is one of the top young talents in the NBA.
Coach Lorenzo Romar says Pondexter wasn't the problem. The problem was spoiled expectations.
"I think sometimes, in this age of one-and-done, two-and-out, lotto, we expect everyone to prove how good they really are, based on what they get done as a freshman," Romar said. "There are those that play one year and go to the NBA. But everyone is not like that. And, unfortunately, I think we write the young men off too early. What Quincy Pondexter, to me, has done is simply matured."
Pondexter's emergence is one of the reasons the Huskies could become a tough tournament matchup. They have four players who average double figures and have scored 20 or more points multiple times this season, including Jon Brockman, Justin Dentmon and Isaiah Thomas.
"Quincy was just waiting for his time to shine," Dentmon said.
He picked a good time for that.