Harden delivers when it matters most
March, 20, 2009
03/20/09
7:03
PM ET
MIAMI --
James Harden
was, by and large, terrible Friday afternoon.
Until it was win-or-lose time.
[+] Enlarge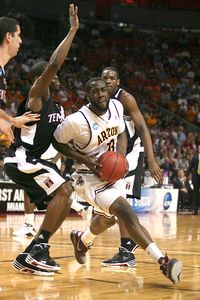 Marc Serota/Getty ImagesJames Harden struggled most of the game against Temple, but found a way to score when Arizona State needed it most.
That's when the Arizona State guard became the kind of player who made first-team All-America teams and is projected as a lottery pick in the June NBA draft. He took over a game that he had played very little part in for the first 35 minutes.
Harden took the ball in his hands, took over the Sun Devils' offense and directed the No. 6 seed past a determined Temple team. He scored only nine points in the game -- less than half his season average -- but seven of them came in the final 4:44. So did three of his seven rebounds. And that's why Arizona State is still playing after a 66-57 victory in a largely deserted American Airlines Arena.
It's nice when your 6-foot-5 shooting guard can become your break-a-defense-down point guard at crunch time.
"It's a tremendous asset and gift," Arizona State coach Herb Sendek said. "At the end of the game, as much as it may not have been his afternoon, he made a number of plays that allowed us to win. ...
"When the game was on the line, he was still able to have the presence of mind to reset himself and play the last home stretch exceptionally well. That's not easy to do when you're not having your day, to rest yourself mid-streak and then step up and make a number of plays that your team needs you to make."
The first play Harden made was a 3-pointer off a screen at the top of the key with 4:02 left and ASU up 53-49. At that point he was 0-for-6 and being massively outplayed by Temple shooting guard Dionte Christmas, who had 27 points. But after scraping off a Jeff Pendergraph screen and seeing the Owls' defense hesitate, Harden didn't hesitate a second. He rose up and smoothly stroked the biggest shot of the game. After that it was never closer than five points the rest of the way.
On the ensuing possessions, Harden kept working the high screen and driving to the basket, either drawing fouls or dishing to open teammates. Temple had no answer -- not defensively and not offensively, as Christmas took his last shot around the five-minute mark.
That's the biggest difference between the two stellar 6-5 guards: Harden can create for himself and others, while Christmas needs more help from a table-setting point guard.
But occasionally the laid-back Harden needs help getting his motor revved. That's where teammate Derek Glasser came in Friday.
"James, you've got to snap out of it," Glasser told him with about 10 minutes left in the game. "Let's go."
Harden did not snap back.
"He's not one of those guys who's going to say, 'F you, get outta here,'" Glasser said. "He's going to say, 'OK, let's go.'"
Glasser has played with Harden for years, dating to their days growing up in Southern California. He knows Harden's talent, and the occasional reticence that comes with it.
"It's frustrating, just because if there's anybody who knows what he's capable of, it's me," Glasser said.
Glasser had a career scoring game, racking up 22 points, and forward Jeff Pendergraph had 22 of his own.
"Credit to my teammates -- they picked me up," Harden said. "That's why we're still playing on Sunday."
If Arizona State is going to play beyond Sunday, it cannot afford another 35-minute no-show performance from its star player.