Moreno not necessarily starter worthy
June, 9, 2009
06/09/09
12:45
PM ET
While it seemed obvious on NFL draft day that first-round pick Knowshon Moreno would end up the latest Denver Broncos running back to run for 1,000-yard glory in his debut season, the team remains cautious in its stance with the 12th overall pick. It still is only June, and teams are running organized team activities, not real games, but Moreno is listed third on the team depth chart behind Correll Buckhalter and LaMont Jordan.
"I'm just learning," Moreno told The Denver Post. "They've been in the league eight or nine years. Coming behind them and learning from them and maybe one day making my way up there is awesome."
Moreno is, of course, saying all the right things, but he has the ability to be a starting NFL running back and fantasy monster pretty much out of the gate, and fantasy owners should remember the Mike Shanahan era is over in Denver. New coach Josh McDaniels might be playing favorites with his veterans at this point and might not be so apt to make lineup changes on the fly, without warning and often defying explanation. Moreno's being third on the depth chart also might be short-lived, but fantasy owners need to be a bit cautious if they're drafting anytime soon. Moreno is ranked 29th at running back by ESPN Fantasy, so we aren't assuming the rookie will go bonkers in 2009.
McDaniels could work the rookie slowly into the lineup because he does have other assets at his disposal. Buckhalter has never carried the load as the starter, but he did average 4.9 yards per carry as the Eagles' second option in 2008, and he's been relatively injury free the past three seasons. Jordan, who worked with McDaniels in New England last season, has had one big NFL season, when he ran for 1,000 yards, caught 70 passes and scored 11 touchdowns for the 2005 Raiders. He likely will be more of a goal-line back at 30 years old, but who knows. Without Moreno, the Broncos seemed set to use some combination of Buckhalter, J.J. Arrington (since released), Jordan, Ryan Torain and Peyton Hillis. Moreno could trump them all or be used sparingly in September.
• Speaking of those Buckhalter-free Eagles, Brian Westbrook underwent what has been deemed successful ankle surgery the first week of June. Fantasy football owners might shy from this first-round pick, but the Eagles are basically telling you he's fine. Word from Philly is Westbrook should be ready for the start of the season, even if he barely plays in the preseason. Based on what we've seen from him in the past, I expect decent but sporadic production. That still might make him a top-10 pick on draft day. For more on Westbrook, check out Stephania Bell's blog.
Next in line for Philly, should Westbrook miss time, would be rookie LeSean McCoy and former Dolphin Lorenzo Booker. McCoy injured his thumb at an OTA and could miss some valuable reps. The Eagles could turn to one of the free-agent running backs still on the market, like Edgerrin James or Warrick Dunn, but at this point, they seem content that Westbrook will heal fine.
• Brett Favre went food shopping today. Then he got his car washed. OK, seriously, he's back in the news, and this time, it's not really of his own doing. Coach Brad Childress has set a deadline of later this week for the future Hall of Fame quarterback to make a final decision on whether he will suit up to play for the Vikings this season. Favre recently had arthroscopic surgery on his ailing throwing shoulder and wants to hold off on a decision until he knows how his shoulder feels. Bottom line: There's very little chance this situation will be resolved this week, maybe not even in June. Favre wouldn't be ranked in the top 15 for fantasy quarterbacks anyway.
[+] Enlarge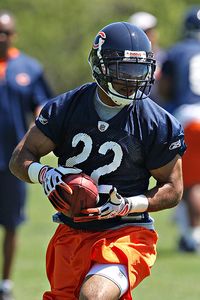 Jonathan Daniel/Getty ImagesForte was a pleasant surprise in fantasy in 2008.
• Bears running back Matt Forte had an MRI last week on his ailing left hamstring, but nobody in the Windy City appears too worried about the second-year player. Forte finished tied for fourth in fantasy scoring as a rookie, and we rank him fourth for this season. The Chicago Tribune reported Forte will be sidelined until at least later this week, but since the season is still months away, there's little need to worry. By the way, Kevin Jones is the backup.
• Saints tight end Dan Campbell was scheduled to undergo arthroscopic knee surgery for a partially torn MCL, but the team believes he'll be ready for training camp, just in time for starting tight end Jeremy Shockey to be dealing with an injury. Campbell was not ranked in our top 25 at tight end, because he is 33, he has one catch each of the past two seasons and Billy Miller is the designated backup.
• New Browns coach Eric Mangini apparently has not decided who will be his starting quarterback this season but intends to do so by the second or third preseason week. We've pretty much decided neither Derek Anderson nor Brady Quinn is a worthy fantasy starter regardless, but obviously, tune back in mid-September to see who wins the job. It appears Mangini will base his decision on the preseason performance that most consider meaningless.