Commentary
Red Sox, Braves on verge of failure
Updated:
September 27, 2011, 1:04 PM ET
By
Tim Keown
| ESPN.com
There's something disturbingly compelling about failure. The worse the failure, the more compelling the spectacle, which makes the final days of the two wild-card races among the most gruesomely enjoyable in a long, long time.
Let's focus on the Red Sox first, because right now they represent failure at its finest. Boston is close to pulling off a collapse that is nothing short of miraculous. It's hard to watch. It's impossible to ignore.
[+] Enlarge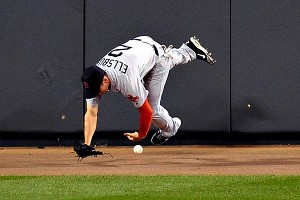 Joy R. Absalon/US PresswireJacoby Ellsbury couldn't hold onto Robert Andino's hit.
After Monday night, the Red Sox and Rays are tied for the American League wild card. Unlike most late-season comebacks, you simply can't dress this up as a Tampa Bay triumph. If Boston ends up missing the playoffs, the enduring image will come from Monday night: Jacoby Ellsbury, inches away from a fantastic catch that would have kept the Orioles' lead at one run, lying on the warning track as the ball trickled away and Robert Andino (are there years of "Robert F-ing Andino" in his future?) ran around the bases for a three-run, inside-the-park homer.
A three-run, inside-the-park homer -- it would be difficult to conjure a more unlikely and telling way to inform a team that it simply isn't its year. Expect talk of curses and baseball gods and specious celestial alignments.
No, you can't dress this up as the Rays' triumph. This is an unmitigated disaster by the Red Sox. The Rays have played well, no doubt, but really just well enough to apply pressure while the Red Sox keep losing. Tampa's gone 13-8 since being 8½ games back on Sept. 5. That's .619 baseball; better than their average, certainly, but not torrid by any definition.
Mike and Mike in the Morning
ESPN MLB Insider Buster Olney says the Red Sox have lost every advantage they had in the AL wild-card race. Plus, Olney says Ozzie Guillen's relationship with the White Sox had completely disintegrated.
The Red Sox are 6-19 in September. They've won five of their last 22. They haven't won consecutive games since August. They've lost four of five games to the Orioles over the past week.
(Let's all sit back for a moment and consider how much Buck Showalter is enjoying this. He doesn't have much, but he's got this. Remember back in spring training when Buck went on a weird diatribe about Derek Jeter, the Yankees, the Red Sox and payroll disparity? One of the things he said was this: "I'd like to see how smart Theo Epstein is with the Tampa Bay payroll." That's pretty funny right now.)
The visions of collapse: Terry Francona turning on his heels and heading for the clubhouse after another loss; Jarrod Saltalamacchia flailing at a Tim Wakefield knuckler like he's trying to catch water; Ellsbury watching helplessly as the ball falls out of his glove on the warning track.
[+] Enlarge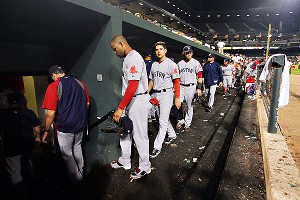 Rob Carr/Getty ImagesThe Red Sox could exit the season early (compared to what their fans were expecting from the standings a month ago).
And don't forget John Lackey's Nixonian blowup after Sunday's doubleheader. I couldn't care less about Lackey's personal life, although it's hard to commit to the idea of him being a victim given the known circumstances, but I do have some advice for him: Turn off your phone. See? How hard was that? If you're going to get all worked up over a text message you got 30 minutes before game time, turn the damned thing off an hour before game time. Or ignore it.
Besides, if your head's in your phone 30 minutes before your biggest start of the year, and your team's biggest game of the year, then the guys signing those huge paychecks shouldn't be very happy with you. Since just about every starting pitcher in the game is on the field -- stretching, throwing, whatever -- 30 minutes before game time, you're either fudging on the timeline or not preparing the way front-line pitchers do.
And here's the crazy part about the phone deal: If it's an emergency, someone will know how to reach you. Your work schedule is printed in every newspaper and sports website in the country. So if you need to concentrate, put the phone away. Besides, TMZ didn't divorce your wife -- you did.
The Braves are the Red Sox in a minor key. They had the same lead (8½ games) at the same point (Sept. 5) but their fall has been more of a slide than a collapse. They're 9-16 in September; the Cardinals have won 14 of their last 19.
[+] Enlarge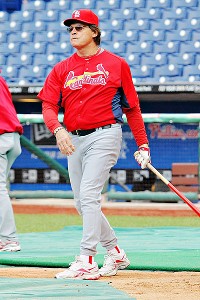 L Redkoles/Getty ImagesTony La Russa has found his managing swing in September.
It's always dicey to ascribe too much of a team's success to a manager, but the Tony La Russa resurrection is tough to ignore. Two months ago his weirdness seemed to be showing through in all the wrong places. He's got the game's most virulent strain of vigilantism when it comes to hit batters. The case of Colby Rasmus -- admittedly unique -- indicated a growing inability to deal with young players. In the last month, though, it's been back to genius and savvy and George Will on line 2. Despite Monday night's loss -- to the Astros, no less -- we were treated to the ultimate La Russa boxscore: seven names in the leadoff spot.
The battle between the Rays and Red Sox has been far more compelling, probably because too many people in Boston have come to believe the playoffs are the Red Sox's birthright. Atlanta would probably be equally compelling if Bobby Cox were still in the dugout. If he was, he'd either be thrown out of every game or the Braves would still be 8½ games up. Probably the latter.
The ultimate story of managing in the midst of a near-collapse comes from the 1990 Cincinnati Reds. They led the NL West from wire to wire and won the World Series, but they struggled mightily down the stretch to hold off the Dodgers. During the worst of it, manager Lou Piniella called a team meeting. He stood in front of his team holding a cigarette in one hand and a beer in the other while going off on a carotid-popping rage. Players tried to stifle laughter as Piniella stalked around the clubhouse screaming at them to relax. It was the very definition of mixed message.
However Piniella intended his message(s) to be received, the tactic worked. Maybe that's something for Terry Francona to think about.
ESPN The Magazine senior writer Tim Keown co-wrote the autobiography of Pawn Stars' Rick Harrison. "License to Pawn: Deals, Steals, and my Life at the Gold & Silver" is available on Amazon.com. He also co-wrote Josh Hamilton's autobiography, "Beyond Belief: Finding the Strength to Come Back," available as well on Amazon.com. Sound off to Tim here.
SPONSORED HEADLINES
ESPN TOP HEADLINES
MOST SENT STORIES ON ESPN.COM
Rawlings Atlanta Braves Grand Slam Softee Bat and Ball Set Shop »