Commentary
Race to the bottom
Part 2 of a look at what the games we play and watch can bring to the race debate
Understand, everything is better everywhere.
But the snares and catches of race and racism are still out there. Hidden. Persistent. And inside that entangling truth, another: Violence is imminent. Never farther from you than this. You're one step from it, one gesture, one misunderstanding. One irrevocable wrong.
---
Early '68 I'm not sure we had color. We likely still had the black-and-white; a Zenith portable, the screen a dull gray eye in a beige plastic box with a handle on top. Like you'd carry it somewhere. Rabbit ears and a dial.
[+] Enlarge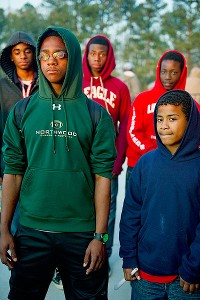 Ann Hermes/The Christian Science Monitor/Getty ImagesWould Martin Luther King Jr. be standing beside these young folks if he were still alive? Undoubtedly.
It sat on a bench in the "family" room and we'd eat our dinner in there on the couch, three across, my mom and my dad and I, chewing, watching the evening news. Cronkite mostly, sometimes Huntley and Brinkley, and the noise of our knives and forks, and the smell of tuna casserole or shepherd's pie made from soup company recipes my mother scissored neatly out of women's magazines. We balanced the plates on our laps.
This is how I picture us the night Martin Luther King Jr. was assassinated. I'm not sure. It was evening in the East, April 4, 1968, and I was 10 years old. We might have been eating, or rinsing the dishes. It felt like the floor falling away beneath us.
It's hard now to remember a time when the news wasn't instant and information wasn't omni. You had to sit very still and wait for it. The waiting made it worse. And you had to go back more than 100 years to recall an America so beset as it was that year, so ready to destroy itself, to burn itself down.
Understand that at the moment of his murder, Dr. King was a great hero and an enemy of the state. It was possible then, even likely, for a famous black man to be presented as both. On behalf of the status quo, this is what we were told. Ali. Jim Brown. A dozen more. Be afraid. Be afraid of change.
My parents were middle-class strivers from Ohio living in the East, apolitical as I look back, and race-blind when it came to sports and jazz and the movies. I never heard a slur. But they were frightened by what they saw that night and by what followed -- a whole country coming apart and a decade spent as near the brink of something as we've ever been without succumbing to it. Like the slow-motion striking of a match.
When Dr. King was shot, he was 15 years younger than I am right now.
---
How is it possible to admire a man for who he is on the court and hate him for the color of his skin off it? How can we respect courage, determination, skill, grace and strength and killer instinct in the player, but fear it in the man? How can you love his game if you can't love him?
In the meritocracy of competition, everyone is equal. Everyone is safe. And the safest place in America for a young black man in 1968 was probably a playing field.
---
I'm a 54-year-old white man in America. I can walk anywhere I please at any hour without thinking. Kellen Winslow, Hall of Fame football player and athletic director at Central State University, was born the same day I was. He is a smart, pleasant man, and in my hometown he is nine times more likely than I am to be stopped on the street by a policeman.
We talk for a long time one day about that, about race and football and what it means to grow up in East St. Louis at the moment of America's great and frightening change. He was safe when he played.
"On the field," he says to me, "I am only what I do."
---
Try an experiment. Post an Internet story in which anything happens anywhere to anyone, and within the first few unmoderated comments below it, the racists and the xenophobes will have figured out who to blame.
Ask those same racists straight up why they're racists and you'll hear nothing from them. Nothing.
---
But somehow it gets better. Somehow it got better. Thanks to incalculable sacrifice, we've all been set free. We arrive in 2012 with a black president and a future as bright as we choose to make it.
But racism -- America's original sin -- still sizzles like background radiation across everything we do and see.
Fewer than 500 roster spots in the NBA. Fewer than 800 in big league baseball. Fewer than 1,750 in the NFL. Nearly a million young African-Americans in prison. And homicide still a leading cause of death among young black males. The safest place in America for a black man in 2012 might still be a playing field.
---
[+] Enlarge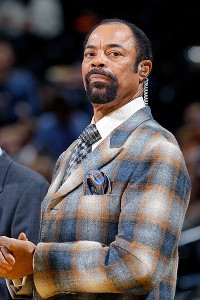 Rocky Widner/NBAE/Getty ImagesWalt Frazier, the hero of an untold number of young men, has seen our society improve.
Two kids on the baseline at Madison Square Garden the week before last watching the Knicks warm up against the Pistons. Ninety minutes to the tip when Melo clears the tunnel into the light. Music up. Lin and Shumpert and Bibby, too; Novak and Stoudemire. The shootaround may be the best part of the job. No grind of win or lose, just the loose joy of work, of muscle and repetition.
Two kids. Two dozen players.
Does it matter black or white? In here we're all safe. The theater of race in America, safe on the floor and safe up in the seats. I wander over and talk to Walt Frazier, coolest superhero of my youth.
Is it better now? I ask.
"It's much better now," he says.
Two kids in hoodies watching the Knicks and the Pistons. Helpless, you long to gather every one of them up, every one of them from the streets and the subways, gather every one of them up until somehow at last everyone everywhere is safe.
Senior Writer for ESPN.com
Has written for Sports Illustrated and The New York Times
Author of the acclaimed book "Sunday Money"
SPONSORED HEADLINES
ESPN TOP HEADLINES
MOST SENT STORIES ON ESPN.COM