Commentary
Plot thickens (again) for Barry Bonds
The sentencing hearing in December suddenly looks ominous for the Home Run King
Originally Published:
September 9, 2011
By
Lester Munson
| ESPN.com
You're no doubt familiar with the Yogi-ism, "It ain't over 'til it's over." Well, in the view from our Courtside Seat, it's true more often than not. For example, you might have thought the Barry Bonds case was over. Cut 'n' dried. Done deal. Au contraire! Turns out it ain't over after all. The Bonds trial is still yielding legal twists and turns and surprises, with the promise of more to come. Eventually, we'll get to deadbeat dads in That State Up North and other kinds of family feuds. But right now, we start today with …
Barry behind bars? Could happen
There were moments in the Barry Bonds perjury trial when you wondered about the prosecutors. Not any longer. Their recent actions show a startling degree of confidence in what they are doing. They might be right, and it might lead to an unexpected outcome: prison time for the Home Run King.
We'll tell you why and how in a moment. But first, a little recent history from the trial to refresh your memory.
At times, the prosecutors seemed to stumble and bumble in front of Judge Susan Illston as they questioned witnesses at the trial this past March. The judge ripped into them on several occasions when they tried to find the right words or the proper form for a question. Even without an objection from the Bonds lawyers to spur the remark, Judge Illston embarrassed prosecutor Jeff Nedrow with the statement, "I just don't understand you." That isn't the kind of thing trial lawyers want to hear from a judge.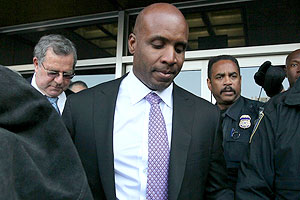 Justin Sullivan/Getty ImagesThat one little obstruction conviction seemed trivial to some, but Barry Bonds could do time for it.
Their low point came when Arthur Ting, Bonds' personal physician, took the stand and surprised prosecutors with damaging testimony that appeared to guarantee a win for the defense. Ting operated on Bonds several times during his playing days and made house calls to Bonds' mansion. Despite Ting's close connections to the defendant, Nedrow and his fellow prosecutor Matthew Parrella expected him to testify that a Bonds injury was the result of steroid use and that Bonds showed side effects of steroids. After all, the prosecutors had interviewed Ting twice and listed him as one of their witnesses.
But on the stand, the doctor denied that he had ever connected the injury to steroids and that the side effects were from lawful medications Ting had prescribed. The prosecutors were caught flat-footed; and, making matters worse, they failed to do any of the things that skilled lawyers normally do when a witness surprises them. (Here's our analysis of Ting's testimony that day.)
That was the nadir for the government's case. But then things began to change. After the Ting fiasco, it was the prosecutors staging the surprises. Nedrow, suddenly cool and articulate, made a stunningly effective final argument to the jury. Bonds' attorneys, Allen Ruby and Cristina Arguedas, who had been brilliant in their cross-examinations of government witnesses, were disorganized and rambling in their final arguments. They did not seem to know which lawyer was responsible for which issue. And their team of attorneys from Skadden Arps, one of the most expensive of American law firms, could not find the proper evidence documents at the proper time during their arguments.
The prosecutors' work on the statements of the law that Judge Illston made to the jury in the trial's final moments was even more of a surprise. (Discussions among the judge and the lawyers over the judge's "instructions" to the jury can be dull and arcane. Sometimes, it's even difficult for the attorneys trying the case to stay involved in these boring discussions.) This time, it was Bonds' lawyers who were caught flat-footed.
A judge who had been dismissive and occasionally scornful of the prosecutors' efforts during the trial seems to have come completely over to their side, rejecting assertions from Bonds' attorneys that the jury should have considered the "totality" of his testimony to the grand jury.
Instead of an instruction that told the jury to consider whether the "totality" of Bonds' testimony was evasive or false, the prosecutors offered an instruction that gave the jury a menu of seven potentially evasive statements. The instruction, which Judge Illston accepted over the objection of the Bonds attorneys, allowed the jurors to convict Bonds if they concluded that any one of the excerpts from his testimony was evasive.
The trial jury ruled that Bonds obstructed justice during his grand jury testimony when he responded to a question about syringes with a rambling, incoherent discourse about his life as a "celebrity child" and the fact that he had never looked through his wife's purse. So the government's surprise instruction led directly to the jury's unanimous verdict on that particular excerpt.
OK. That's the history. Here are the more recent developments.
Relying on the jury's unanimous conclusion that the "celebrity child" answer was evasive, the prosecutors, with considerable confidence, have now made a surprising choice. They have agreed to dismiss the three separate charges on which the jury deadlocked. The prosecutors could have insisted on a second trial of those three charges. It would have been the safer course.
Why would they walk away from another chance at another conviction? They won't discuss it, but one major factor must be the powerful opinion Illston issued on Aug. 26 demonstrating the factual and legal support for the prosecutors' surprise instruction and the jury's verdict.
A judge who had been dismissive and occasionally scornful of the prosecutors' efforts during the trial seems to have come completely over to their side, rejecting assertions from Bonds' attorneys that the jury should have considered the "totality" of his testimony to the grand jury.
"Nothing in the statute, the indictment, nor government actions prosecuting this case support the idea that the testimony as a whole must have been evasive," she ruled.
In addition to total acceptance of the prosecutors' reading of the applicable law, Judge Illston summarized the evidence against Bonds and concluded that he "repeatedly provided non-responsive answers" in his grand jury testimony.
In a major break for prosecutors preparing for the inevitable appeal from Bonds, Illston went one step further, explaining that "while weighing the evidence and evaluating the credibility of the different witnesses, the Court [Illston] concludes that the evidence does not preponderate against the verdict."
[+] Enlarge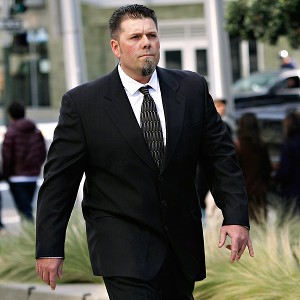 AP Photo/Paul SakumaThe judge did not have kind words for Greg Anderson, who apparently isn't out of the legal woods yet, either.
What Illston means is that she believed the witnesses against Bonds despite the heroic cross-examinations from his lawyers. More importantly, she is telling the higher court that it should be very slow to reverse a conviction that is based on testimony that she, the judge presiding at the trial, saw and believed. Judges in higher courts will rarely substitute their judgment about the veracity of a witness for the judgment of the trial judge who saw and heard the testimony firsthand.
In addition to relying on the legal analysis in Illston's opinion, the prosecutors must have noticed the tone of indignation in her description of the trial. Although it was not directly connected to her ruling on the jury's verdict, Illston went out of her way to describe the refusals of Greg Anderson, Bonds' trainer, to testify in her courtroom and tell the jury what he knows about Bonds' use of performance-enhancing drugs.
Recognizing all that, the prosecutors were able to decide to dismiss the remaining three charges and concentrate on their next tasks.
First among those tasks, they must decide whether to prosecute Anderson for criminal contempt of court. There is not much doubt that he is guilty, but the prosecutors and their superiors in the U.S. Department of Justice must decide whether to invest resources in the prosecution of a defiant witness who already has served 15 months for civil contempt for refusing to testify.
Second, they can focus on their preparation for Bonds' sentencing hearing on Dec. 16. This is where the case might really make headlines again and where the prosecutors -- if you'll excuse the pun -- might really hit a home run. The pro-prosecution tone of Illston's opinion raises the possibility of prison time for Bonds, something that had not previously been considered likely. She summarized the evidence favorably for the prosecutors; she quoted from Anderson's guilty plea in 2005 about his involvement in the BALCO case that included his distributions of steroids and his attempts to hide his profits; and she concluded that the prosecution's witnesses were truthful.
The guidelines that govern sentencing in federal courts provide for a sentence of 15 to 21 months of incarceration for an obstruction conviction. Although Illston has not ordered prison time in two previous prosecutions for lying about steroids, the opinion and its tone might put Bonds in a different category.
The Pride of Michigan
The state of Michigan takes pride in its program for catching and incarcerating deadbeat dads. It's the only state that classifies failure to pay child support as a felony with penalties as severe as the possibility of four years in prison and a $2,000 fine.
The program has now ensnared a man who was once another object of Michigan pride: Jimmy King, a member of the University of Michigan's celebrated Fab Five basketball teams of 1991-92 and 1992-93.
[+] Enlarge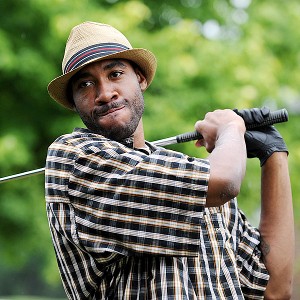 AP Photo/Lon HorwedelJimmy King played in the Jalen Rose Leadership Academy golf outing in July.
King, 38, was arrested a month ago for failing to pay nearly $17,000 in support for a son who is a senior in high school.
The situation is complicated. The custody litigation was in Kansas. The boy, Jalen, resides in Texas with a grandmother. The charge against the father is in Michigan. It's like a law school exam question in a particularly boring and useless course taught in all law schools and known as "Conflict of Laws." The conflicting laws of the three states produce a conundrum that is a joy for professors and the bane of students in law schools everywhere.
For King, however, the case should be simple, according to his attorney. "If he had the money, he would pay it," Jeffrey Abood said. "He wants to and will pay the money."
At a court hearing in Oakland, Mich., on Thursday, King reported that he has found a job after nearly a year of unemployment and intends to formulate a plan to make installment payments on the arrearage. According to Abood, King also has arranged to move Jalen to Jimmy's house in Southfield, Mich., and, in accordance with Jalen's wishes, to enroll Jalen in the local high school.
A spokesperson for Michigan Attorney General Bill Schuette, who orchestrated King's arrest, supported King's plans, explaining "Our goal is to use the criminal charge as leverage to establish a regular schedule of payments, with jail only as a last resort."
It's easy to see why the authorities in Michigan are so proud of their deadbeat dad program. It seems to work.
Ownership, the short sell way
There was a time when sports team owners made the money with which they bought their franchises in straightforward businesses such as selling automobiles or developing real estate. But in recent years, a new sort of sports investor has been emerging: the 40-ish zillionaire who made a fortune in private equity firms and hedge funds.
Tom Gores, the head of a private equity firm known as Platinum Equity, purchased the Detroit Pistons in June. A group from Bain Capital, another private equity firm, owns a majority interest in the Boston Celtics. A pair of executives from Blackstone Group, still another private equity firm, is closing in on the purchase of the Philadelphia 76ers. John Canning, the founder of a private equity firm in Chicago, owns a substantial piece of the Milwaukee Brewers and two years ago made a serious bid for the Chicago Cubs.
And hedge fund manager David Einhorn was willing to pay $200 million for a one-third ownership interest in the Mets as the troubled team faces declines in attendance and income, substantial debt, and litigation.
We suppose there is an easy explanation for this emerging breed of owner: These guys have a lot of extra money lying around and, as fans, like the idea of investing in their favorite team.
But their arrival in the sports industry brings a new set of issues and questions. Mets owners Fred Wilpon and Saul Katz, for example, began to realize that Einhorn and his hedge fund, Greenlight Capital, made their money as short sellers -- in other words, investors who discern that a business is in decline and use financial techniques to profit from its continuing decline.
[+] Enlarge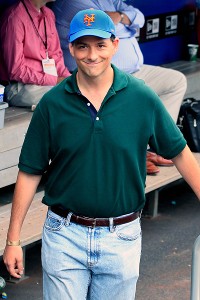 Paul Bereswill/Getty ImagesThe Mets are his team … as a fan. Looks like they won't be David Einhorn's team as an owner, though.
Looking closely at Einhorn's offer of the money they desperately need, Wilpon and Katz decided that Einhorn appeared to be short selling the Mets. They concluded that Einhorn had his eyes on more than one-third of the team. He wanted a path to majority ownership. And under the terms of the original agreement, if the current owners could not repay his $200 million in five years, Einhorn would be able to control the franchise.
The deal fell apart when Wilpon and Katz understood that Einhorn, like any hedge fund short seller, would profit from continuing poor performance.
Einhorn denies that he was short selling the Mets with his offer. It is "nonsense," he told The Wall Street Journal, claiming that his offer was formulated so that he could "root for the Mets to succeed on-field and off-field."
In another example, one of the private equity operators who is trying to buy the 76ers brings a different issue into the mix. David Blitzer, a 41-year-old senior managing director at Blackstone, is entangled in a family war of Shakespearean proportion.
After Blitzer's father-in-law, Stuart Ross, an entrepreneur with a long record of business failures, initiated a pattern of harassing emails and phone calls, Blitzer contacted prosecutors in New York City and asked for help. He told the authorities that Ross had left messages saying, "I will haunt you, David," and, "You have started a war, David, and I will be the victor." Ross also told his son-in-law that he would forgo seeing his grandchildren in return for a payment of $5.5 million.
Wearing a hidden recorder provided by the prosecutors, Blitzer met his father-in-law to discuss a possible peace accord. Blitzer listened to Ross and promised to pay $250,000 if Ross would leave Blitzer's family (including Ross' daughter and grandchildren) alone. He paid $50,000 at the meetingm, with more to come upon final settlement.
Police arrested Ross the next day, charging him with extortion. He has since pleaded guilty and was sentenced to five years of probation.
For Blitzer, the battle lingers. An attorney who represented Ross and also was charged with extortion was acquitted and is now suing Blitzer, claiming that Blitzer gave the authorities false information leading to his arrest and prosecution.
Hedge funds. Equity firms. Is this where sports ownership of the future is going? That is far from certain. But whenever you see those words -- "private equity" and "hedge fund" -- in the description of possible buyers of a team in any sport, it's maybe worth remembering the way we were. For better or worse.
Lester Munson, a Chicago lawyer and journalist who reports on investigative and legal issues in the sports industry, is a senior writer for ESPN.com.
Legal Analyst
Senior Writer and Legal Analyst, ESPN.com
13 years as investigative reporter at Sports Illustrated
Adjunct Instructor, Northwestern's Medill School of Journalism
SPONSORED HEADLINES
ESPN TOP HEADLINES
MOST SENT STORIES ON ESPN.COM