Discussion
Nelson Mandela's impact
Writers and activists tell stories about their hero and role model
Updated:
December 5, 2013, 9:59 PM ET
An ESPN.com collection
Nelson Mandela, who led a revolution against injustice from a prison cell and who overthrew history by turning his back on violence, is dead. He was 95 years old.
Most of us saw him for the last time when South Africa hosted the World Cup in 2010.
Mr. Mandela, an amateur boxer and the winner of the Nobel Peace Prize in 1993, rose from poverty and obscurity to defeat the white minority rule of apartheid and become the president of South Africa. Known now to everyone ...

Read full story
REMEMBERING MANDELA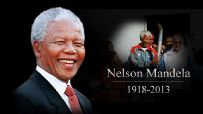 Nelson Mandela, the former South African president and anti-apartheid icon, died at the age of 95.