Discussion
Mandela left a path all can follow
Editor's note: ESPN tennis analyst Cliff Drysdale was a young South African at college during the years that Nelson Mandela was persecuted, arrested and sentenced to life in prison. Drysdale continued to play tennis, representing South Africa in Davis Cup, until apartheid and a lifelong desire to become an American led him to move his family to the United States in 1970.
I've maintained an interest in my homeland, South Africa, and I believe Nelson Mandela is ...

Read full story
REMEMBERING MANDELA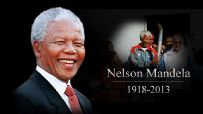 Nelson Mandela, the former South African president and anti-apartheid icon, died at the age of 95.