Discussion
NFC has Cowboys, Packers and not much else
The Cowboys and Packers are clearly the class of the NFC, but that's not really saying much, writes Seth Wickersham.
This is the season of fractions. What, you haven't noticed? A few weeks ago, the Patriots-Colts game was tabbed as Super Bowl XLI½.
Just this week, someone on television mentioned the Packers-Cowboys Thursday nighter is Super Bowl XLI¾. Although this frightening, idiotic trend is rich for mocking -- if the Colts and Pats meet in the AFC Championship, will that be Super Bowl XLI 9/10? -- for immediacy's sake, it's best to focus on Thursday's game with a simple question: ...

Read full story
PACKERS AT COWBOYS (Thursday, 8:15 ET)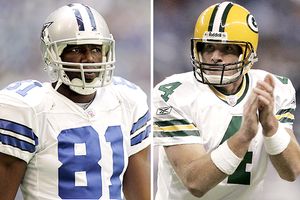 Terrell Owens and the Dallas Cowboys (10-1) play host to Brett Favre and the Green Bay Packers (10-1) on Thursday night in a game that could determine homefield advantage in the NFC playoffs. Only about a third of the homes in the U.S. will be able to watch the game on TV. Here's why

| Discuss the game.

Commentary/features
•
Power rankings: Dallas second, Green Bay third
•
Garber: Romo, Favre are improvising masters
•
Garber: Five improvising QB masters
•
Snoop Dogg raps Tony Romo
•
Clayton: First and 10
•&nbsp
Grant's run to glory
•
Wickersham: Best of weak NFC
•
Packers or Cowboys? Experts make their picks
•
Page 2: Inside Favre's brain
•
Cowboys-Packers through the years
News
•
Clayton: Injury report

ZOOM galleries
•
Top 5 NFL improvisational QBs
•
Top 5 NFL improvisational QBs ever
•
Top 5 college improvisational QBs
Video
•
Steve Young: QB improvisation about awareness
•
Brett Favre: "Play loose but be ready to play"
•
Dissecting Brett Favre's renaissance
•
Keyshawn Johnson's advice for Tony Romo
•
Field Pass: Green Bay vs. Dallas
•
Phillips and McCarthy surprising many
Simulation
•
EA Simulation: The winner in OT is...
Scouts Inc.
•
Tale of the tape: Too close to call
•
Offenses are in high gear
•
Improved Packers' O-line benefits Grant
•
Packers' terrific cornerback tandem
•
Packers' coaches are the key
•
Game could be decided by trench warfare
•
Horton: Notes from the film room
ESPN FAN SHOP