Discussion
Brady and his weapons too much for '72 Dolphins
Who would play pivotal roles if the 1972 Miami Dolphins met the 2007 New England Patriots? Scouts Inc.'s Gary Horton breaks down the top five individual matchups in this dream game.
Originally Published:
December 19, 2007
By
Gary Horton
| Scouts Inc.
ESPN teamed with EA SPORTS to use the Madden NFL 08 game engine to create a dream matchup pitting the 1972 Dolphins against this season's Patriots. A couple of ground rules: EA SPORTS modernized the Dolphins to level the playing field to reflect changes in the game since 1972. A few pounds were added to Miami's starting offensive line, which averaged about 250 pounds. That's the size of a linebacker today but about the norm for the time. Also, NFL rules reflected today's rules. In 1972, for example, defensive backs could almost mug a receiver down the field until a pass was thrown. Touch a receiver after five yards today and you could see a yellow flag.

To continue reading this article you must be an Insider
Insider
PURSUIT OF PERFECTION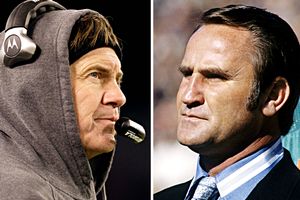 With one more win, Bill Belichick, left, and his Patriots will match Don Shula's 1972 Dolphins, who finished the regular season undefeated. Compare the teams.

1972 Dolphins vs. 2007 Patriots
•
Elizabeth Merrill: '72 Dolphins slowly move on
•
EA SPORTS dream matchup: Who wins?
•
Schlereth: My dream game winner is...

•
Bob Griese: Can't compare 'em

•
Clayton: Miami had perfect formula in 1972
•
ZOOM gallery: 1972 Dolphins vs. 2007 Patriots
•
Pursuit of Perfection: Fins-Pats comparisons
•
Page 2: Pats place in history
|
Rank 'em
Pursuit of Imperfection
•
Sando: '07 Fins have company in futility
•
Reese: Bad season recovery kit
•
Page 2: Worst teams since 1978