Discussion
Ex-coach to rejoin son J.D. as face of Joe Gibbs Racing
Updated:
January 8, 2008, 5:01 PM ET
Associated Press
DAYTONA BEACH, Fla. -- Joe Gibbs is apparently headed back to NASCAR following his resignation Tuesday as coach of the Washington Redskins.
Gibbs formed his NASCAR team in 1992 during his first retirement, but turned control of the three-car organization to son J.D. when he returned to the Redskins four years ago. He made sporadic appearances on race day, but spent most of his time in Washington with the football team. Now he's free to be directly involved again in racing -- ...

Read full story
JOE GIBBS RETIRES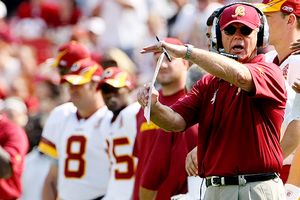 Joe Gibbs retired as Redskins coach and team president Tuesday, three days after a playoff loss ended an inspirational late-season run that followed the death of safety Sean Taylor.

News
•
Gibbs retires as Redskins coach, president
•
Gibbs expected to resume NASCAR team duties
•
NFL coaching changes
Commentary/analysis
•
Pasquarelli: Failed experiment to bring him back
•
Clayton: Job took a heavy toll
•
Newton: Redskins' loss could be racing's gain
•
Clayton: Possible candidates
•
Zoom gallery: Gibbs' career
•
Hashmarks blog: What about Cowher?
Video/Audio
•
Gibbs announces his retirement

•
Clayton on Gibbs' departure

•
Mortensen: It's no surprise

•
Gibbs to retire as Redskins coach

SportsNation
•
Vote: Did Gibbs tarnish legacy?
•
Gibbs' 2007 approval rating