Discussion
Rookie Watch: Durant ends season at head of class
Originally Published:
April 16, 2008
By
David Thorpe
| ESPN.com
Coming into the season, the rookie class of 2007 looked like it would produce two great players and a bunch of solid guys, at best. But as I wrap up our final report and rankings, it's clear this class might go down as one of the best and deepest ever.
To continue reading this article you must be an Insider
Insider
NBA Rookie 50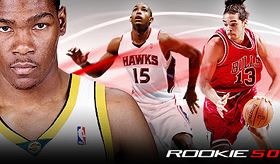 Editor's note: During the regular season, Scouts Inc.'s David Thorpe ranked the rookies and provided observations on the celebrated class.
Check out Thorpe's final Rookie 50 rankings.
Thorpe's Weekly Reports
•
4/16: The top 10 rookies in 2007-08
•
4/08: Stuckey cracks the top 10
•
3/26: Durant, Horford both enjoying March
•
3/19: Hornets' Wright creating some buzz
•
3/12: Scola takes over No. 1 spot
•
3/05: Houston's Landry lands in top 10
•
2/27: Thornton climbs into Top 5
•
2/20: Breaking down Durant and Horford
•
2/13: Who's hot heading into the break?
•
2/06: Who needs to stop chucking?
•
1/30: Noah's rising, Durant's struggling
•
1/23: Navarro, Noah making noise
•
1/16: Conley makes appearance in Top 10
•
1/09: Which players are hitting the wall?
•
1/02: Young, Green, Stuckey showing signs