Discussion
Michael Beasley isn't as dominant as you think
Sam Alipour was at the Tribeca ESPN Sports Film Festival, where there was plenty of fighting but no brawls. Story
Originally Published:
May 7, 2008
By
Sam Alipour
| Special to Page 2
Andrew H. Walker/Getty Images
Adam Horovitz, director Adam Yauch and Mike D of the Beastie Boys at the premiere of "Gunnin' for That #1 Spot."
Michael Beasley to the Knicks? Editor's note: The following is the second in a two-part wrap-up from the Tribeca ESPN Sports Film Festival. For part one, click here.
NEW YORK CITY -- They're laughing at Michael Beasley. It seemed like a good idea. The Kansas state frosh, the ...
Read full story
MORE FROM THE FESTIVAL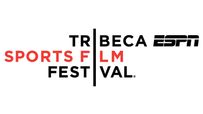 PODCAST: 'BALL DON'T LIE'
Based on a book by ex-University of the Pacific point guard Matt de la Pena, directed by former Div. III baller (Vassar) Brin Hill and starring And 1's Grayson "The Professor" Boucher, the hoops scenes in "Ball Don't Lie" pop. The real drama, though, is off the court in this surprisingly affecting coming-of-age tale about a go-it-alone L.A. streetballer (Boucher) who rises through the foster care system lifted by the love of a girl, his love for the game and some unlikely mentors (including Chris "Ludacris" Bridges). Also dramatic: The flick's after-party, where a disturbingly large number of goofy middle-aged white men, perhaps emboldened by Boucher's performance (think: the Rocky effect), took to the dance floor to hilarious results. (You rocked, Steve Guttenberg!) The next morning, I met up with Boucher and co-star Nick Cannon -- who plays an abusive father figure -- to talk about the flick, their game and making sweet, fictional love.
• PODCAST

GIRL POWER: 'FOOTBALL UNDER COVER'
I was in Iran reporting a story for ESPN The Magazine about a local female who'd just won an auto racing championship -- and against men, no less -- when I first heard the rumblings: The Iranian women's national soccer team, long starving for international competition, would be hosting a German club in a friendly in Tehran. "No way! … We have a women's national soccer team?" was the typical reaction on the streets that winter of 2005. The match would take place at Tehran's Ararat Stadium before a jubilant all-female crowd, but not until many months and several cancellations and restarts later. The struggle to stage (and, in a case of filmmakers-as-subjects, shoot) that friendly is documented in "Football Under Cover." Despite frustratingly arbitrary bureaucratic barriers, filmmakers Ayat Najafi, 31, and David Assman, 29, say they never lost hope, inspired in part by the persistence of the Iranian players who must battle systematic oppression -- and restrictive fire-suit-like uniforms -- to pursue their passion. "It is now clear to me that the future of Iran will be led by women," explained Iranian born Najafi, a resident of Berlin, at the AMC 7 premiere. "The future of change is their future. They are living in a country that does not want them to be presented to society because that is problematic for fundamentalism. They are to be hidden from everything. But when you have to fight for your representation, it makes you strong. When you are ignored, the result goes the other way: Women are now stronger than men." Of course, the struggle continues for Iran's lady footballers. The match in Tehran was to be the first in a home-and-home, but the follow-up in Berlin was cancelled. The message from the Iranian authorities: "technical difficulties." Iran's sports-flick fans, too, must deal with disappointment. "If they could see this movie in Iran, it would be very nice," said Najafi, "but unfortunately, with this type of film, we knew that cannot be the case. "Who knows, maybe one day."
NOT TOO OLD TO DANCE
Yesterday, I called up my grandma just to tell her I love her -- and, also, that she's a lazy bum. I felt compelled to do this after hanging with the 12 geezers who shook their lively rumps in the lobby outside Pace University's theater in a musicless hip-hop dance number, heralding the premiere of their film
"Gotta Dance."
Dori Bernstein's doc chronicles the adventures these NETSationals, the New Jersey Nets' senior hip-hop dance team, from auditions to back-tweaking numbers through game-day stardom. "I've witnessed a lot of age discrimination in business, in Hollywood, and it bothered me tremendously," Bernstein explained. "I wanted to make a film that wasn't in your face about that subject, but something that celebrated aging, that celebrated 80-year-olds who can shake up an arena with 20,000 fans." "Oh dear, I just love hip-hop," said spunky senior Betty Walkup, 61, a schoolteacher who loves to "let loose," but on the down low. "I didn't want anyone to know, so I changed my name," she explained. "Betsy is a very calm and mannerly local school teacher. But, Betty, oh dear, she's the hip-hop dancer. And perhaps not as mannerly." Joe B., 62, the only male dancer who "didn't know hip-hop from a hole in the wall," said he joined the team to win a $300 bet with his three sons. "I did swing dancing in the '60s because it was the only way to meet girls back then. And nothing's changed, except now I meet older girls," he explained. "They're my harem." All the seniors cited bossman Jay-Z as their favorite artist, but they weren't afraid to dish some advice. "Like us, maybe the Nets need to dedicate themselves to a team effort," Joe offered. "And hopefully soon. I'd love to be dancing in the playoffs."
WHAT PAGE 2 LEARNED AT TRIBECA …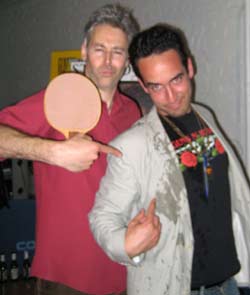 Never take your glass of [lemonade] near the backswing of a ping-pong playing Beastie Boy. "Gunnin'" director Adam Yauch (left) is the perp -- and the dude picking up Media Blitz's laundry bill.
MOVIE MAYHEM: AMERICA, YOU'RE STUPID
The
best football flick of all time
as voted by fans in the Tribeca Film Festival's "Movie Mayhem" bracket-style online tournament is … "We Are Marshall"? Really? It's a good flick and all, but … fools! You're all fools! Anyhoo, it's too late for a recount -- the winning flick screened at the Tribeca Drive-In, a makeshift outdoor theater at World Financial Center -- so we asked some festivalgoers to chime in. DeAndre Jordan, Texas A&M: "'Remember the Titans.' History, adversity, and Denzel. A classic."
Jeremy Sisto, actor ("Law & Order"): "'Rudy.' Little Sean Astin got me. I remember my ex-wife and I thought we were so cool at the time. Then we came out of the theater bawling."
Zach Gilford, actor ("Friday Night Lights"): "'Friday Night Lights.' Duh."
Sam Alipour, writer: "Point Break." And yes, that totally counts. (Sports fans, feel free to discuss your pick for the best football flick of all time in the comments section below. And don't blow it this time.)
KEY PLAYERS
Lance Stephenson, 6-6 guard, Lincoln High School (Brooklyn): In Rucker's Elite 24 game captured in "Gunnin'," Stephenson drilled a half-court shot at the buzzer (and then danced his butt off) and busted Kevin Love in the mouth with his elbow. "It was a mistake, though!" he said after the screening. "I swear I didn't do it on purpose." And then potential future lottery pick had to go. "My dad's waiting with the car." Tyreke Evans, 6-6 guard, American Christian High School (Aston, Pa.): The "Gunnin'" star on his father, John Holmes, who passed away during last year's Elite 24 game: "It's great knowing that I can remember my dad through this movie. I wish I could talk to him one more time, but I know he's looking down at me right now and smiling."