Discussion
Collins hire would put bull's-eye squarely on Paxson
It was a throwaway line, nothing more. A way for the Chicago Tribune's Mike Downey to get from the 13th paragraph to the 14th paragraph of his Thursday column on the Bulls' seemingly endless coaching search.
Downey had already listed the 17 -- 17! -- reported candidates for the job, but then decided to have some fun and list some long-shot possibilities, including Dennis Rodman, Mike Ditka, Charles Barkley, Hillary Clinton and … If the Lakers can bring back Phil Jackson back a second ...

Read full story
THE RETURN OF DOUG COLLINS?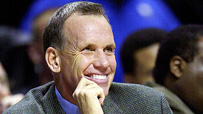 The lure of a talented young team that owns the No. 1 pick in the NBA draft reportedly was enough to bring Doug Collins back to Chicago. However, after a week of discussions, he and Bulls owner Jerry Reinsdorf decided Collins would not be back on the Bulls' sidelines.
June 6
|
May 29
•
Hollinger: Collins doesn't look like good fit
•
Wojciechowski: Bull's-eye squarely on Paxson
•
TrueHoop: This pick makes me nervous
SportsNation
•
Your take on Collins
Watch
•
Bucher: Hire generates buzz
•
A good hire?
Podcasts
•
Will Perdue, Horace Grant on challenges ahead
•
Waddle & Silvy: Paxson misses better choices
•
Waddle & Silvy: Short-term solution
•
Waddle & Silvy: Listener weary of recycling
•
Waddle & Silvy: Listener approves of choice
•
Waddle & Silvy: Here to groom successor?
•
Waddle & Silvy: Right assistant key