Discussion
Dumars deserves props for thinking outside the box
Originally Published:
June 3, 2008
By
Stephen A. Smith
| ESPN.com
Joe Dumars must be on something!
That was the word circulating through the NBA's grapevine yesterday among those lacking insight into what's been taking place with the Detroit Pistons over the past year. These folks, stunned by Dumars' announcement that he was dismissing Flip Saunders as his head coach, were equally flabbergasted over news that assistant Michael Curry -- who has zero experience as a head coach -- would replace a man who had just finished guiding the Pistons to a third ...

Read full story
Saunders out in Detroit; Curry in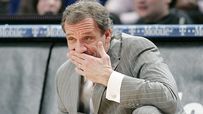 After failing to reach the NBA Finals for a third straight year Flip Saunders was fired.
Saunders Out
•
Sheridan: Flip never gained respect
•
Stein: Coaching carousel
•
Smith: Curry a good fit
•
2008 coaching changes
•
News not good for Flip
•
TrueHoop: Where do coaches come from
Multimedia
•
Watch: Dumars on Saunders
•
Hollinger chat wrap: Thoughts on Flip
•
Vote: Did Pistons make the right call?