Discussion
Losing faith in Seattle
While attending a George Michael concert in the former home of the Sonics, Jim Caple vents about the high price of being a sports fan. Story
Updated:
July 3, 2008, 1:56 PM ET
By
Jim Caple
| Page 2
At 9:09 p.m. PST on Wednesday, George Michael raises the microphone to his mouth and shouts out to the audience at KeyArena: "How are you feeling, Seattle!!!"
Well, since you asked …
The Mariners are in last place, my wife dragged me to your concert, you just sang a buzz-killing cover of "First Time Ever I Saw Your Face" -- but worst of all, just a few hours ago the city caved in and agreed to a $45 million settlement with Clay Bennett that will allow the carpetbagger ...

Read full story
Sonics Moving To Oklahoma City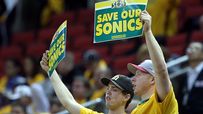 After 41 years in Seattle, the Sonics are leaving. Following a settlement Wednesday, the team's ownership will move the team to Oklahoma City for the coming season.
Story
News
•
Sonics still undecided on practice facilities
•
Stern spells out timeline for potential NBA return
•
Official document: Settlement details
Analysis
•
Munson: Q&A on Sonics' settlement with Seattle
•
Adande: Move sends a bad message
•
Moving vanguard: Others with going concerns
TrueHoop
•
Bennett not necessarily yielding all things Sonic
•
Wrestling with the news
•
A shot to the gut of Seattle fans
Page 2
•
Kevin Jackson: Your team could be next
•
Caple: Faithless in Seattle
•
Schoenfield: Lowest Seattle moments
Podcast
•
Broussard on the moving news
Video
•
Seattle mayor speaks
•
Sonics owner on move
SportsNation
•
Moving issues in Sonics situation
•
Who's next? Rank most likely to move