Discussion
Careful, sports fans, you could be the next Seattle
With the Sonics packing up for Oklahoma, Kevin Jackson offers a cautionary tale to those who think their team is staying put. Story
Updated:
July 3, 2008, 11:22 PM ET
By
Kevin Jackson
| Page 2
As an innocent first-grader in 1976, I returned home from school one day to get the devastating news that my dad's job was being transferred. My family was headed from the Pacific Northwest to the great unknown of some place called Tulsa, Okla.
As it turned out, Oklahoma would be only a blip on my childhood radar. We ended up spending just two years there before returning to the Seattle area, where I'd live for the rest of my school years.
During that brief stint in the Sooner State, ...

Read full story
Sonics Moving To Oklahoma City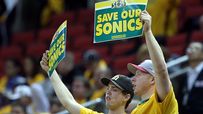 After 41 years in Seattle, the Sonics are leaving. Following a settlement Wednesday, the team's ownership will move the team to Oklahoma City for the coming season.
Story
News
•
Sonics still undecided on practice facilities
•
Stern spells out timeline for potential NBA return
•
Official document: Settlement details
Analysis
•
Munson: Q&A on Sonics' settlement with Seattle
•
Adande: Move sends a bad message
•
Moving vanguard: Others with going concerns
TrueHoop
•
Bennett not necessarily yielding all things Sonic
•
Wrestling with the news
•
A shot to the gut of Seattle fans
Page 2
•
Kevin Jackson: Your team could be next
•
Caple: Faithless in Seattle
•
Schoenfield: Lowest Seattle moments
Podcast
•
Broussard on the moving news
Video
•
Seattle mayor speaks
•
Sonics owner on move
SportsNation
•
Moving issues in Sonics situation
•
Who's next? Rank most likely to move