Discussion
The darkest hours in Seattle sports history
It takes quite an effort to top the list of Seattle's worst sports moments, but Clay Bennett has done it. List
The first sports poster I bought was of Dennis Johnson, the day after Seattle won the NBA championship in 1979. He was wearing Sonics green, bringing the ball upcourt, wearing a pair of bulky-looking kneepads.
That team started four players 26 or younger: Johnson, Gus Williams, Lonnie Shelton and Jack Sikma. Fred Brown was 31 but one of the best sixth men in the league. Better yet, the team owned two top-10 picks in the 1979 draft and the first-round pick of the perennially awful ...

Read full story
Sonics Moving To Oklahoma City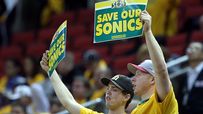 After 41 years in Seattle, the Sonics are leaving. Following a settlement Wednesday, the team's ownership will move the team to Oklahoma City for the coming season.
Story
News
•
Sonics still undecided on practice facilities
•
Stern spells out timeline for potential NBA return
•
Official document: Settlement details
Analysis
•
Munson: Q&A on Sonics' settlement with Seattle
•
Adande: Move sends a bad message
•
Moving vanguard: Others with going concerns
TrueHoop
•
Bennett not necessarily yielding all things Sonic
•
Wrestling with the news
•
A shot to the gut of Seattle fans
Page 2
•
Kevin Jackson: Your team could be next
•
Caple: Faithless in Seattle
•
Schoenfield: Lowest Seattle moments
Podcast
•
Broussard on the moving news
Video
•
Seattle mayor speaks
•
Sonics owner on move
SportsNation
•
Moving issues in Sonics situation
•
Who's next? Rank most likely to move