Discussion
Breaking down the key questions surrounding Team USA
Originally Published:
July 7, 2008
By
Chris Sheridan
| ESPN.com
They held minicamp for one day in Las Vegas just a few blocks from where Kevin Garnett and Paul Pierce of the NBA-champion Boston Celtics were frolicking at the Palms pool, and they hit New York two days later with an all-day media blitz that left Cleveland wondering whether LeBron James will be a goner in two years.
Now, Team USA is on vacation for the majority of this month before training camp reopens July 21 in Las Vegas.
The Americans will be together for ...

Read full story
Team USA: Going For Gold In Beijing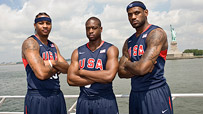 Team USA aims for the gold medal at the Beijing Games, playing its opening game against host China on Aug. 10.
Roster
|
Schedule
|
TV
News
•
Kobe & Co. arrive to heroes' welcome in Beijing
Pre-Olympic Tour
•
Jackson: Team USA will miss Amare
•
Sheridan: Flaws exposed against Aussies
•
Sheridan: Point-guard change?
•
Sheridan: D-Wade is back
•
Sheridan: Meet the Doberman
•
Sheridan: King James mastering FIBA rules
•
Jackson: Melo aiming for gold and more
Video
•
Watch: Best internationals in action
SportsNation
•
Who would you have picked?