Discussion
Rookie Watch: Who's standing out in summer-league play?
Originally Published:
July 15, 2008
By
David Thorpe
| ESPN.com
How is the rookie class faring in summer-league competition? Here are my latest observations:
Also, click here for Thorpe's Rookie 50 rankings.
Vegas Summer League
Kevin Love, Timberwolves His game is special, but below the rim. He looked terrific in his first summer league game -- 18 points, 13 rebounds -- and now has to learn how to use his new body as an athlete. Soft layups can be turned into dunks, which will translate into more free-throw attempts.
Danilo ...

Read full story
2008 SUMMER LEAGUE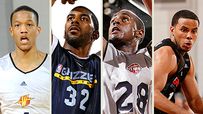 The youngest stars get their chance to show their stuff in the three summer leagues: in Las Vegas, in Orlando and at the Rocky Mountain Revue.
Rocky Mountain Revue
•
Buckley: Morrow nets MVP honors
•
Buckley: Randolph has the moves
•
Buckley: Hill aims for role in Spurs backcourt
•
Buckley: Claxton tests knee on comeback trail
•
Buckley: Green out to change his rep in Dallas
•
Buckley: Koufos struggles in summer debut
•
Complete Schedule
|
Team rosters
Las Vegas
•
Complete schedule, results
•
TrueHoop: Brooks' Vegas wrap-up
•
TrueHoop: Day10 liveblogging from Vegas
•
Watch: Pops shines for Wolves
•
J.A. Adande: A glimpse at the Warriors' future
•
TrueHoop: Day 9 liveblogging from Vegas
•
Stein: One last blast of chatter from Vegas
•
TrueHoop: Day 8 Liveblogging from Vegas
•
Las Vegas Summer League midway point awards
•
TrueHoop: Day 7 liveblogging from Vegas
•
Watch: Love shines in win over Blazers
•
TrueHoop: Day 6 liveblogging from Vegas
•
'Creative scorer' Mayo struggles at PG, scores 20
•
Mayo with mustard: 69-footer spices Vegas game
•
TrueHoop: Day 5 liveblogging from Vegas
•
Bayless impresses in loss to Kings
•
Sixers' big men shine in win over Lakers
•
Thorpe's rookie notes from summer league
•
TrueHoop: Day 4 liveblogging from Vegas
•
Watch: Gallinari's winning debut with Knicks
•
Watch: Bayless nets 28 in his Portland debut
•
Watch: Mavs roll past Love, Wolves
•
TrueHoop: Eyeing Love, Gallinari debuts
•
Clippers' Gordon injures hamstring
•
TrueHoop: Day 3 liveblogging from Vegas
•
Stein: No Oden cameo in LV
•
Watch: Belinelli's 25 leads Warriors past Mavs
•
Watch: Lakers top Mayo, Grizzlies
•
TrueHoop: Day 2 liveblogging from Vegas
•
TrueHoop: Day 1 liveblogging from Vegas
•
Watch: Mayo dunks on Armstrong
•
TrueHoop: What to watch in Vegas
•
TrueHoop: O.J. Mayo pro debut
Orlando
•
Schedule and results
|
League rosters
•
Best and worst of Orlando
•
Day 4: Westbrook tears up summer league
•
Day 3: Chalmers, CDR playing with chip
•
Day 2: Durant surprises, leads OKC to win
•
Day 1: Beasley stars in summer league debut
•
Watch: Beasley beats Rose in debut
•
Watch: David Thorpe on Michael Beasley
Analysis
•
TrueHoop: Summer league buzz
•
Thorpe: Rookie watch
•
Thorpe: Top 50 rookies