Discussion
1998: A year that still resonates
In Page 2's tour of the most memorable sports years, Scoop Jackson says we're still feeling the impact of 1998, 10 years later.
It ended with a shot. But no one knew the extent of what that shot really meant until years later.
It's been 10 years since that shot from Michael Jordan's hand fell through a nylon net in Utah. No other year has had the complexity and impact across sports as 1998 -- from good to bad, beginning to end. Twelve months played out in dramatic fashions that we'd never witnessed before. And it wasn't until years later when we've comprehended what it all meant.
The Good: John ...

Read full story
Page 2's Most Memorable Sports Years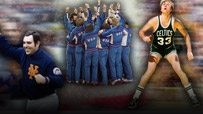 With 2008 already full of amazing moments, Page 2 is looking back at the greatest years in sports history.
THE YEARS
•
Jonah Keri on 1961: The year of the dynasty
•
Jim Caple on 1968: A year of unrest
•
Jim Baker on 1969: New York, New York
•
David Schoenfield on 1972: AL in trouble
•
Eric Neel on 1978: Greatest duel ever
•
Mary Buckheit on 1980: A miracle
•
Mike Philbrick on 1984: Bridging the gap
•
Paul Lukas on 1986: Three great weeks
•
DJ Gallo on 1994: The good old days
•
Scoop Jackson on 1998: Still resonates
•
Kieran Darcy on 2001: Darkness, and light
•
Patrick Hruby on 2004: End of exuberance
VOTE
•
PollCenter: Best year ever -- '80, '86, '98, '01 or '08?