Discussion
1986: The best three weeks ever?
In Page 2's tour of the most memorable sports years, Paul Lukas recalls the most riveting postseason in baseball history, in 1986.
Updated:
July 31, 2008, 8:30 AM ET
By
Paul Lukas
| Page 2
In 1986, I was in college and dating a girl whose attitude toward baseball was indifferent at best. I used all the usual arguments to explain why baseball was a superior game: "It's the only game where one guy can beat nine guys. And there's no clock, see, so the players determine when the game ends. So even if you're losing, you can always come back and win as long as you don't make that last out."
And so on. Somehow she remained unmoved.
And then came the fall ...

Read full story
Page 2's Most Memorable Sports Years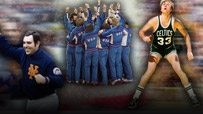 With 2008 already full of amazing moments, Page 2 is looking back at the greatest years in sports history.
THE YEARS
•
Jonah Keri on 1961: The year of the dynasty
•
Jim Caple on 1968: A year of unrest
•
Jim Baker on 1969: New York, New York
•
David Schoenfield on 1972: AL in trouble
•
Eric Neel on 1978: Greatest duel ever
•
Mary Buckheit on 1980: A miracle
•
Mike Philbrick on 1984: Bridging the gap
•
Paul Lukas on 1986: Three great weeks
•
DJ Gallo on 1994: The good old days
•
Scoop Jackson on 1998: Still resonates
•
Kieran Darcy on 2001: Darkness, and light
•
Patrick Hruby on 2004: End of exuberance
VOTE
•
PollCenter: Best year ever -- '80, '86, '98, '01 or '08?