Discussion
2001: The gift of sports is realized
In Page 2's tour of the most memorable sports years, Kieran Darcy remembers when 2001 taught him that sports truly are a gift.
I am a die-hard New York Yankees fan, and I know I'm spoiled rotten. Born in May 1978, I was too young to remember the Yankees' World Series win that year. And they were a bad team for much of my childhood. But I know, I know … 13 straight years in the postseason, and four World Series wins in five years.
Yet, believe it or not, my favorite World Series memories are from a Series the Yankees lost.
Puzzled? Let me explain. As I've written about on Page 2 before, I lost my father ...

Read full story
Page 2's Most Memorable Sports Years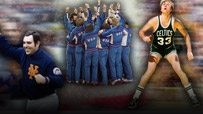 With 2008 already full of amazing moments, Page 2 is looking back at the greatest years in sports history.
THE YEARS
•
Jonah Keri on 1961: The year of the dynasty
•
Jim Caple on 1968: A year of unrest
•
Jim Baker on 1969: New York, New York
•
David Schoenfield on 1972: AL in trouble
•
Eric Neel on 1978: Greatest duel ever
•
Mary Buckheit on 1980: A miracle
•
Mike Philbrick on 1984: Bridging the gap
•
Paul Lukas on 1986: Three great weeks
•
DJ Gallo on 1994: The good old days
•
Scoop Jackson on 1998: Still resonates
•
Kieran Darcy on 2001: Darkness, and light
•
Patrick Hruby on 2004: End of exuberance
VOTE
•
PollCenter: Best year ever -- '80, '86, '98, '01 or '08?