Discussion
Posey brings his recipe for success to Hornets
Updated:
October 7, 2008, 1:57 PM ET
By
John Hollinger
| ESPN.com
NEW ORLEANS -- Last season couldn't have been a bigger success for the New Orleans Hornets. They went from missing the playoffs entirely to roaring to the Southwest Division championship and coming within a game of a trip to the Western Conference finals.
This year, they've set their standards higher.
With one of the league's premier players in Chris Paul, an All-Star forward in David West and a budding star in the middle in Tyson Chandler, New Orleans feels it has a nucleus in ...

Read full story
2008 NBA Training Camp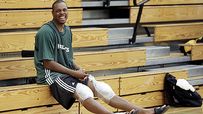 Camps have opened, and all 30 NBA teams are geared for a fresh start.
Training Camp Index
Celtics Camp

Reunited, and it feels so good. Especially after a summer spent basking in the glow of a title run. Now, the Celtics are back and eyeing another trophy.
•
Sheridan: Champs return for more
•
Insider: C's five camp questions
•
Watch: Can the Celtics win back-to-back titles?
Lakers Camp

Think the Lakers are soft after last season's Finals run-in with the C's? Have a look at Andrew Bynum, whose broad shoulders carry the weight of L.A.'s new title hopes.
•
Adande: Expectations for Bynum
•
Insider: Five camp observations
•
Watch: Lakers prepare to defend West
Heat Camp

His head coach is young, and so are his point guards. But is Heat shooting guard Dwyane Wade looking forward to a long and bright future in the Sunshine State?
•
Sheridan: Wade eyes Miami future
•
Insider: Five camp observations
•
Watch: Wade's gold standard
•
Watch: The Rookie, Episode 9
Hornets Camp

James Posey won titles at his previous two stops. New Orleans is counting on the versatile swingman to push it to similar territory.
•
Hollinger: Striking a Posey
•
Insider: Five camp observations
Blazers Camp

They're young, talented and a bunch of good guys. If you're looking for a team to love, these Trail Blazers might just be the right team.
•
Adande: Blazers in bloom
•
Insider: Five camp observations
Warriors Camp

John Hollinger checks out Warriors camp, where Golden State could trot out an impressive tall-ball lineup.
•
Insider: Five camp observations
Rockets Camp

Ron Artest doesn't want to be the No. 1 guy in Houston. He would be the sixth man if it meant the Rockets would make a title run.
•
Stein: Artest is worth the risk
•
Insider: Five camp observations
Suns Camp

You might think it's a shame the Suns are changing their approach. But Steve Nash and Co. aren't convinced it's such a bad idea.
•
Stein: Adjusting to new game plan
•
Insider: Five camp observations
•
Watch: O'Neal on the Suns
Cavs Camp

The Cavs didn't make any blockbuster moves this offseason, but LeBron & Co. could be better than you might think.
•
Windhorst: LeBron's outlook
•
Insider: Five camp observations
Bobcats Camp

Now that the Bobcats have Larry Brown at the helm are they finally ready to take that next step toward a playoff birth?
•
Bobcats' hopes hinge on May
Hollinger Team Forecasts

John Hollinger gives us a team-by-team rundown of all the offseason moves and predicts how each team will perform this season. Will it be another Celtics-Lakers Finals?
Atlantic
Celtics
|
Nets
|
Knicks
|
76ers
|
Raptors
Central
Bulls
|
Cavs
|
Pistons
|
Pacers
|
Bucks
Southeast
Hawks
|
Bobcats
|
Heat
|
Magic
|
Wizards
Northwest
Nuggets
|
Blazers
|
Wolves
|
Thunder
|
Jazz
Pacific
Warriors
|
Clippers
|
Lakers
|
Suns
|
Kings
Southwest
Mavs
|
Rockets
|
Grizzlies
|
Hornets
|
Spurs