Discussion
Experts' preseason predictions for awards
Our experts predict which players will take home hardware.
Originally Published:
October 30, 2007
See how ESPN experts predicted the division, conference and NBA Finals winners.
Expert
Coach DPOY MIP Rookie Sixth MVP
HenryAbbott TrueHoop Jackson Battier Stuckey Oden Kirilenko James
J.A.AdandeESPN.com Sloan Artest Rondo Beasley Fernandez James
MauriceBrooksESPN McMillan Garnett Harris Oden Barbosa James
ChrisBroussardESPN The Mag
Sloan Artest Stuckey Oden Stuckey James
RicBucherESPN ...

Read full story
2008-09 NBA PREDICTIONS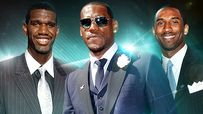 Let the games begin. And for that matter, the story lines, too. The 2008-09 NBA season is here, and our experts make predicitons.
Titles
|
Awards
TITLES
•
Atlantic Division champ
•
Southeast Division champ
•
Central Division champ
•
Southwest Division champ
•
Northwest Division champ
•
Pacific Division champ
•
Eastern Conference champ
•
Western Conference champ
•
NBA champ
AWARDS
•
Rookie of the Year
•
Defensive Player of the Year
•
Sixth Man of the Year
•
Most Improved Player
•
Coach of the Year
•
Most Valuable Player
PREVIEWS
•
East Dime previews
•
West Dime previews
•
ESPN The Mag preview
•
Simmons: Fantasy preview
•
2008-09 Preview index
SPORTSNATION
•
Vote: Over/Under East
•
Vote: Over/Under West
•
Vote: NBA season predictions
•
Vote: NBA awards
•
Fans: Season predictions