Discussion
Detroit could be the best thing to happen to Iverson
Allen Iverson is poised to succeed, now that he's finally in a role in which he doesn't have to carry a franchise. Story
Updated:
November 5, 2008, 4:44 PM ET
By
Jemele Hill
| Page 2
With the Detroit auto industry's bottoming out and the Lions' flirting with 0-16, the city of Detroit isn't exactly seen as brimming with possibilities.
But for Allen Iverson, Detroit should be considered nothing but a land of promise.
A change of scenery has been known to change the perception of an athlete and, subsequently, the destiny of a team. A trade to New England saved Randy Moss' career. The Herschel Walker trade started a dynasty in Dallas.
So ...

Read full story
A.I., BILLUPS, MCDYESS TRADE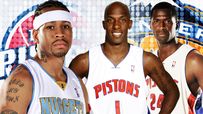 Detroit's Chauncey Billups and Antonio McDyess were traded for Denver's Allen Iverson, writes Marc Stein.
Story
|
Watch: Ric Bucher
---
Henry Abbott

In another blockbuster trade to sweep the NBA, Joe Dumars grabs one of the league's stars and is ready to cast his net again.
Joe Dumars strikes big
---
Chad Ford

How big a risk will this deal be for the Pistons this season? Was Joe Dumars smart for letting Chauncey Billups go to Denver?
Trade risk for Pistons
---
John Hollinger

Detroit had its reasons for making the trade, but Denver came away by winning on the court and on its bottom line.
Denver's trade advantage
---
J.A. Adande

With Chauncey Billups moving on, it's now safe to say that the Pistons' no-superstar approach didn't work out.
End of an era in Motown
---
David Thorpe

How does this deal work out for each team? Do the Pistons get that explosive player they've been lacking?
Expectations for A.I., Billups
---
Jemele Hill

Now that he doesn't have to carry a franchise on his back, Detroit might be the best thing to happen to A.I.
Iverson's comfort level in Detroit
---
More Trade Content
•
NBA Live 09: Trading Places
•
Fantasy: Biggest winners in deal
•
Watch: Stephen A. Smith's trade breakdown
•
Trade Machine: The deal details
•
Vote: Which team got the better deal?
•
Watch: Nuggets' players react
•
Watch: Ric Bucher breaks down the deal