Discussion
Coaching hot seat: Who's next to go?
Updated:
December 8, 2008, 2:03 PM ET
By
Chris Sheridan
| ESPN.com
Randy Wittman is out the door in Minnesota -- which means it took only six weeks for 13.3 percent of the NBA's head coaching positions to turn over.
The NBA has shown itself to be a league of a few elite teams and an exponentially larger number of sad-sack, empty-seat outfits, many of whom are now invoking that time-honored exercise of pointing the finger of blame at the head coach.
P.J. Carlesimo lasted just 13 games in Oklahoma City, Eddie Jordan was axed two days later ...

Read full story
Coaching Changes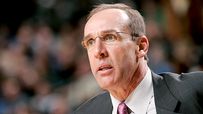 The Grizzlies fired coach Marc Iavaroni on Jan. 22 after an 11-30 start, making him the seventh NBA coach replaced this season.
Story
•
Sources: Avery Johnson turns down job
Kings

•
Theus fired after 6-18 start
•
Watch: Theus out
Sixers
•
Cheeks out after 9-14 start

•
Hollinger: Offensive woes
•
Insider: Numbers' tale
•
Sheridan: Stefanski's take
•
TrueHoop: The Sendoff Games
•
Stephen A. Smith on the change
Timberwolves

•
McHale replaces Wittman
•
Watch: McHale's decision
•
Sheridan: Who's next to go?
Raptors

•
NBA's first Canadian coach
•
Hollinger: Focus on Raps GM
•
Legler on Mitchell firing
Wizards

•
TrueHoop: Surprised by firing
•
Eddie Jordan out as Wizards coach
Thunder

•
Carlesimo out after 1-12 start
•
Insider: Thunder's road ahead