Discussion
Ayuso's NBA dream alive on Christmas night
Journeyman shooter Larry Ayuso went to NBA camps twice but never made it. Dreaming of the NBA, he will be spending Christmas playing D-League ball in Iowa, Chris Sheridan writes.
Updated:
August 6, 2009, 4:14 PM ET
By
Chris Sheridan
| ESPN.com
No matter how much the temperature drops Christmas night in Des Moines, Iowa, there's little chance it'll feel anything like the extreme cold Elias "Larry" Ayuso felt in Russia, Lithuania and Croatia during Christmases past.
Ayuso's professional career traditionally has kept him half a world away from his native Puerto Rico during the holiday season, the only constant being that he has been one giant step from his dream of playing in the NBA. But things will be a little different ...

Read full story
ESPN.COM'S LOOK AT THE YEAR AHEAD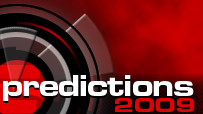 What to expect across the sports spectrum in 2009? ESPN.com offers things you might see coming, some you won't and some that will just flat-out surprise. Predictions to consider:
PRO SPORTS
COLLEGE SPORTS
MORE SPORTS