Discussion
On the road for another Christmas, international players get in the spirit
How do international players Boris Diaw, Anderson Varejao, Rudy Fernandez, Sergio Rodriguez and Nicolas Batum celebrate Christmas in the U.S.? Maurice Brooks asks them.
Whether you are from Brazil like the Cavaliers' Anderson Varejao, France like the Bobcats' Boris Diaw and the Trail Blazers' Nicolas Batum, or Spain like Batum's teammates Rudy Fernandez and Sergio Rodriguez, one thing remains clear.
Regardless of where you grew up, Christmas often is celebrated in similar ways around the world.
When probed about how Christmas in the United States differs from the way they traditionally would spend the holiday back ...

Read full story
ESPN.COM'S LOOK AT THE YEAR AHEAD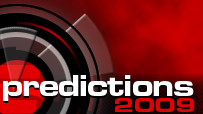 What to expect across the sports spectrum in 2009? ESPN.com offers things you might see coming, some you won't and some that will just flat-out surprise. Predictions to consider:
PRO SPORTS
COLLEGE SPORTS
MORE SPORTS