Discussion
Spectacular Curry is more than just the nation's leading scorer
In college basketball this season, three names stand out above all others: Tyler Hansbrough, Stephen Curry and Blake Griffin. ESPN.com makes a case for each as the nation's best player, and predicts the NBA future of all three standouts.
The Case for Stephen Curry
It's a three-horse race right now for national player of the year in college basketball. Me? I am going to ride Davidson's Stephen Curry.
North Carolina's Tyler Hansbrough will go down as one of the ACC's five ...

Read full story
ESPN.COM'S LOOK AT THE YEAR AHEAD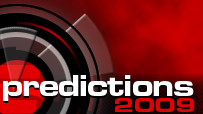 What to expect across the sports spectrum in 2009? ESPN.com offers things you might see coming, some you won't and some that will just flat-out surprise. Predictions to consider:
PRO SPORTS
COLLEGE SPORTS
MORE SPORTS
MORE MEN'S COLLEGE BASKETBALL HEADLINES