Discussion
What will happen in the '09 tournament?
Originally Published:
January 2, 2009
By
Mechelle Voepel
| Special to ESPN.com
OK, if we actually take Bracketology at this time of the year seriously … then here is exactly how the women's NCAA tournament will unfold. Well, at least the part about UConn winning the title, that is.
First-round highlights:
UConn vs. Harvard: Coach Geno Auriemma goes into paranoid mode after UConn beat writers jokingly remind him of the Crimson's famous upset of No. 1 Stanford in 1998's NCAA first round. Auriemma orders assistant Chris Dailey to plot a Watergate-like ...

Read full story
ESPN.COM'S LOOK AT THE YEAR AHEAD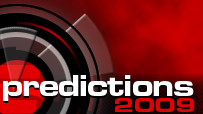 What to expect across the sports spectrum in 2009? ESPN.com offers things you might see coming, some you won't and some that will just flat-out surprise. Predictions to consider:
PRO SPORTS
COLLEGE SPORTS
MORE SPORTS
MORE WOMEN'S BASKETBALL HEADLINES