Discussion
If our bracket made its way to March ...
Updated:
January 5, 2009, 12:18 AM ET
By
Charlie Creme
| Special to ESPN.com
Since this is a column about women's college basketball predictions for 2009, specifically the NCAA tournament, and not an Agatha Christie novel ending in edge-of-your-seat, who-done-it mystery, this foray into crystal ball-ism will begin … at the end.
Why? Because we should have a really good idea who done it, or will do it, this season: the Connecticut Huskies. In Storrs, then Trenton, N.J., then St. Louis. With overwhelming talent and precise execution.
No ...

Read full story
ESPN.COM'S LOOK AT THE YEAR AHEAD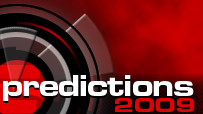 What to expect across the sports spectrum in 2009? ESPN.com offers things you might see coming, some you won't and some that will just flat-out surprise. Predictions to consider:
PRO SPORTS
COLLEGE SPORTS
MORE SPORTS
MORE WOMEN'S BASKETBALL HEADLINES