Discussion
Crystal ball shows Bone saying, 'Gig 'em'
Nelson: Nine predicitons for 2009
Updated:
January 4, 2009, 10:51 PM ET
By
Glenn Nelson
| ESPN HoopGurlz
For most of 2008, post prospects flowed out of the Lone Star State like Texas tea. Three of the top five prospects -- and five of the top 28 -- in the ESPN HoopGurlz 100 were tall timber from Texas.
Get used to it. Texas staying big and brassy in 2009 is just one of the things we saw for the new year when we looked into our crystal ball. Here are nine players to watch for 2009 and a fearless prediction of their future.
1. Kelsey Bone, Sugar Land, Texas: The most high-profile prospect ...

Read full story
ESPN.COM'S LOOK AT THE YEAR AHEAD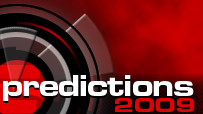 What to expect across the sports spectrum in 2009? ESPN.com offers things you might see coming, some you won't and some that will just flat-out surprise. Predictions to consider:
PRO SPORTS
COLLEGE SPORTS
MORE SPORTS