Discussion
Under the radar predictions for 2009
Rooks better than sophs? Who's like Mike? NBA champ? We've got '09 predictions.
Originally Published:
January 7, 2009
By
John Hollinger
| ESPN.com
It's a new year, and with that, it's time to look into my crystal ball and figure out what is going to happen in 2009.
With one caveat, that is: I don't have a crystal ball. When making predictions, the only truly safe one is that some of them will be wrong.
Nonetheless, we can make educated guesses about things that are likely to happen in 2009. Many are incredibly obvious -- for instance, the Celtics will make the playoffs, LeBron James will make the All-Star team and In-N-Out Burger ...

Read full story
ESPN.COM'S LOOK AT THE YEAR AHEAD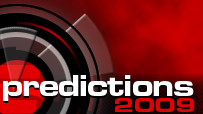 What to expect across the sports spectrum in 2009? ESPN.com offers things you might see coming, some you won't and some that will just flat-out surprise. Predictions to consider:
PRO SPORTS
COLLEGE SPORTS
MORE SPORTS