Discussion
Rookie Watch: The going gets tougher
Originally Published:
January 21, 2009
By
David Thorpe
| Scouts Inc.
The Wall. It's a term often associated with rookies' fatigue as they deal with a season more than twice as long as they have ever dealt with before.
Now that the NBA season is at its halfway point, rookies have already played at least 10 more games than they did in college last season (or about the same amount of games as a full season in Europe). And there are still about 40 games left -- the equivalent of yet another season and a third in college.
So how does The Wall affect ...

Read full story
NBA Rookie 50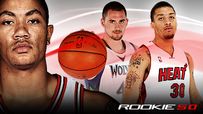 During the regular season, Scouts Inc.'s David Thorpe ranks the rookies and provides observations on the entire class. Rookie 50
Thorpe's weekly reports
•
01/06: Who's bringing the D?
•
12/30: Big men making their mark
•
12/23: Hunting for playoff minutes
•
12/17: Mayo takes over No. 1 spot
•
12/10: Westbrook soars into top 10
•
12/02: Augustin races into top 10
•
11/26: Oden climbs back into top 10
•
11/18: Rose takes over No. 1 spot
•
11/11: Mayo jumps into top five
•
11/05: Fernandez shoots to top of the list
•
10/29: The debuts of Rose, Oden
•
10/24: Oden begins season at head of class