Discussion
Rivalries brewing for 2010 Games
Updated:
August 12, 2009, 6:55 PM ET
By
Amy Rosewater
| Special to ESPN.com
Rivalries are what make the Olympics. Why, what would Dan have been without Dave? What would Nancy have been without Tonya? What would have been the appeal of Debi Thomas' "Carmen" had Katarina Witt decided not play the same role?
And, of course, what would Brian Boitano do … without the other Brian?
The Olympics in Vancouver, which will be the first on Canadian soil since the famed Battle of the Brians and Battle of the Carmens in Calgary in 1988, will have their share of rivalries, ...

Read full story
COUNTDOWN TO 2010 OLYMPICS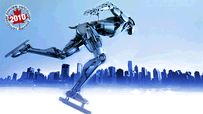 The 2010 Vancouver Olympics are just six months away. We're counting down until the torch is lit on Feb. 12 and our experts give you a preview of what to expect.
WHO/WHAT TO WATCH
THE CITY
Sorry, Innsbruck and St. Moritz and Salt Lake City. The combination of mountain vistas and sea views of Vancouver sets the bar higher for future Winter Games hosts. Jim Caple