Discussion
Five trades that should happen
Originally Published:
February 17, 2009
By
Chad Ford
| ESPN.com
Trade winds are blowing as strongly as ever. According to GMs around the NBA, there was a significant amount of trade deadline talk during All-Star Weekend.
Despite all of that talk, there's no telling how many moves GMs will actually make over the next few days. Some years, the days prior to the trade deadline are red hot with activity. Other years, not so much.
We had one significant deal on Friday when the Raptors acquired Shawn Marion and Marcus Banks from the Heat ...

Read full story
The NBA On ESPN.com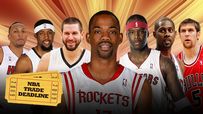 TRADE GRADES
TRADE CHATTER
ALSTON TO MAGIC, LOWRY TO ROCKETS
HUGHES TO KNICKS, THOMAS TO BULLS
WILCOX TO KNICKS
McCANTS TO KINGS
MILLER, SALMONS TO BULLS
MIHM TO GRIZZLIES
CHANDLER TO OKC (AND BACK, AGAIN)
CASSELL TO KINGS
MARION FOR O'NEAL