Discussion
Report card time: Grading the trades
John Hollinger hands out trade-by-trade, team-by-team grades.
Originally Published:
February 18, 2009
By
John Hollinger
| ESPN.com
Take my contracts … please.
That would be the Henny Youngman way of evaluating this year's trade deadline. With the stumbling economy and expected declines in the salary-cap and luxury-tax levels for the next two seasons, most of the league's teams were anxious to shed salary.
That created a buyer's market for those teams willing to take on additional money instead of shed it. Alas, that's the rub. Precious few teams were in a position to increase their payrolls, ...

Read full story
The NBA On ESPN.com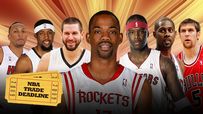 TRADE GRADES
TRADE CHATTER
ALSTON TO MAGIC, LOWRY TO ROCKETS
HUGHES TO KNICKS, THOMAS TO BULLS
WILCOX TO KNICKS
McCANTS TO KINGS
MILLER, SALMONS TO BULLS
MIHM TO GRIZZLIES
CHANDLER TO OKC (AND BACK, AGAIN)
CASSELL TO KINGS
MARION FOR O'NEAL