Discussion
Trade spin: Ranking the teams
How did your team do at the trade deadline? We evaluate every team's performance.
Originally Published:
February 20, 2009
By
Chad Ford
| ESPN.com
The NBA trade deadline couldn't live up to last year's epic February.
Last year, we saw two future Hall of Famers (Shaquille O'Neal and Jason Kidd) plus four former All-Stars (Shawn Marion, Pau Gasol, Wally Szczerbiak and Ben Wallace) traded.
In all, 43 players changed uniforms in February 2008, with an amazing 19 teams involved in trades.
This year, there were fewer trades, and few that seemed very significant in terms of on-court performance.
The Raptors-Heat trade ...

Read full story
The NBA On ESPN.com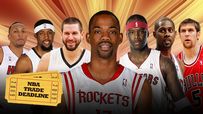 TRADE GRADES
TRADE CHATTER
ALSTON TO MAGIC, LOWRY TO ROCKETS
HUGHES TO KNICKS, THOMAS TO BULLS
WILCOX TO KNICKS
McCANTS TO KINGS
MILLER, SALMONS TO BULLS
MIHM TO GRIZZLIES
CHANDLER TO OKC (AND BACK, AGAIN)
CASSELL TO KINGS
MARION FOR O'NEAL