Discussion
Paris era ends with Final Four loss
Super twins leave, but Sooners return plenty of talent and will be guard-oriented
Originally Published:
April 5, 2009
By
Mechelle Voepel
| Special to ESPN.com
ST. LOUIS -- Ashley Paris best summed up what she and twin sister Courtney have felt about playing for Oklahoma the past four seasons.
"To get this far and not be able to do it just hurts," Ashley said of the Sooners falling short of a national championship, after their 61-59 semifinal loss Sunday to Louisville. "But more than anything, it's not being with this team anymore. I think I would have been this emotional had we won on Tuesday, just the fact of being done with this program."
WOMEN'S NCAA TOURNAMENT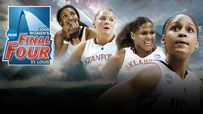 STORIES
VIDEOS
TOURNEY TOOLS
MORE WOMEN'S BASKETBALL HEADLINES