Discussion
'We'll never forget him'
Angels try to carry on with baseball, business on day after Adenhart's death
Updated:
April 11, 2009, 2:42 PM ET
By
Eric Neel
| ESPN.com
ANAHEIM, Calif. -- The women brought white potted lilies and set them on the ground beside bouquets and balloons, among lit candles and signed jerseys and caps outside the stadium. The men knelt to whisper prayers and take pictures. They gathered in a wide, quiet circle. Mothers and fathers, daughters and sons.
Boston Red Sox pitcher Daisuke Matsuzaka stepped deliberately in the right-field grass, stretching in the gray, cool quiet of the empty ballpark.
Groundskeepers tamped ...

Read full story
Nick Adenhart, 1986-2009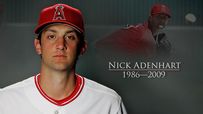 NEWS
VIDEO
AUDIO