Discussion
Mock Draft for the Ages big board
History's greatest football prospects are invited to Page 2's paramount talent lottery. Big board: Top 150 prospects
Updated:
April 21, 2009, 10:13 AM ET
Page 2
Here's the big board of ballyhooed prospects from which the Mock Draft for the Ages was conducted. These players were thought to be the surest of sure things as they headed into the professional ranks.
With a few exceptions, these are players who were selected in the top five overall in the NFL draft. These are pillars of hype, and some even lived up to it. You might argue we've overlooked some deserving candidates, such as Jim Brown and Dan Marino.
But remember, we're ...

Read full story
MOCK DRAFT FOR THE AGES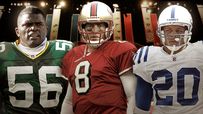 What if we could hop in a time machine and bring back history's best prospects for this year's draft?
• Selections Nos. 25-32, others
• Big board: The top 150 prospects ever
• Len Pasquarelli: Elway at No. 1
• Jeremy Green: Video analysis
• Zoom photo gallery: Top 10 picks
ESPN.COM NFL DRAFT COVERAGE
• Draft Central 2009 home page
ESPN.COM NFL MOCK DRAFTS
• Todd McShay: All seven rounds (April 21)