Discussion
Lakers finish Jazz, still need tuning
After a stumble or two, Lakers dispatch Jazz in five games
Originally Published:
April 27, 2009
By
J.A. Adande
| ESPN.com
LOS ANGELES -- Appearances count out here, so you'll have to forgive the lack of joy after the Lakers dispatched the Utah Jazz in Game 5 with an effort that was sufficient to advance past the first round, but didn't have the appearance of a championship preview.
Even though each of the Lakers' four victories came by double digits, one coach graded their performance a C+, and the evaluation of another Lakers staffer consisted of a simple "Yeccch."
This series didn't feel like ...

Read full story
NBA Playoffs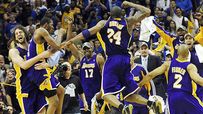 TODAY'S BEST
MORE ON THE PLAYOFFS