Discussion
No moral here, just a Magic win
Despite nearly losing 28-point lead, Van Gundy happy with 1-0 lead on Boston
Originally Published:
May 4, 2009
By
Chris Sheridan
| ESPN.com
BOSTON -- We've all debated moral victories, whether or not they truly exist, whether some good can come out of a loss, blah, blah, blah.
And that idea was certainly floating around the new Boston Garden on Monday night, the notion that the Celtics had established themselves as the more aggressive, more assertive team by the time all 48 minutes of their 95-90 loss to the Orlando Magic were in the books.
If ever there was a moral victory, this had to be one, no?
Well, no.
Or ...

Read full story
NBA Playoffs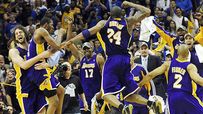 TODAY'S BEST
MORE ON THE PLAYOFFS