Discussion
Cuban wants access to documents
Updated:
May 29, 2009, 2:49 AM ET
Associated Press
DALLAS -- Mark Cuban sued the Securities and Exchange Commission on Thursday for access to documents detailing the insider trading case against the Dallas Mavericks owner.
The Dallas billionaire filed requests for records in December under the Freedom of Information Act. That was a month after the SEC brought a civil action against Cuban, accusing him of selling shares of Internet search engine company Mamma.com after receiving confidential information about a private offering.
Cuban's ...

Read full story
Cuban Accused Of Insider Trading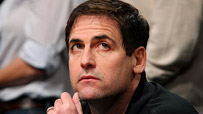 Mavs owner Mark Cuban has been charged with insider trading by the Securities and Exchange Commission.
Story
|
Watch: SportsCenter
•
Cuban's reputation could take hit
•
Adande: Cuban exacerbates Donaghy issue
•
Munson: Insider trading charge will haunt Cuban
•
TrueHoop: A costly mistake for Cuban?
•
TrueHoop: Cuban Mini-Bullets
•
Radio: Jack Ford explains insider trading

•
Radio: Munson compares this to Stewart's case

•
Watch: Colin Cowherd's rant
•
PDF: View entire complaint