Discussion
D.R.A.F.T. Initiative: Team analysis
Originally Published:
June 2, 2009
Which teams have drafted best over the past 20 years? And which are the worst draft-day franchises? To figure that out, you can't just compile a list of names. Even the Warriors can trot out some gems, which is what happens when you end up in the lottery almost every season. But just because they've nabbed Antawn Jamison, Chris Webber, Jason Richardson and Andris Biedrins, it doesn't mean they're excellent at evaluating talent.
To continue reading this article you must be an Insider
Insider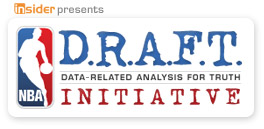 In the lead-up to the NBA draft on June 25, Insider digs deep with the D.R.A.F.T. Initiative. Make sure to check out our hubs for pick-based and team-based analysis, as well as the methodology behind our research.
THE D.R.A.F.T. INITIATIVE
MORE DRAFT COVERAGE