Discussion
D.R.A.F.T. Initiative: Top-heavy
The difference between the top five picks and the next five is staggering
Updated:
June 3, 2009, 4:29 PM ET
By
Elena Bergeron
| ESPN The Magazine
Call them the combine all-stars. Or better yet, the All-World amateurs. In the past 20 years, the top five picks have so far outperformed the rest of the draft over their careers that the first handful of names should get used to rolling as an elite team. Even compared to the rest of the lottery, the top five picks make the draft as top-heavy as an OC Housewife.
To continue reading this article you must be an Insider
Insider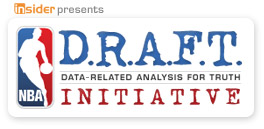 In the lead-up to the NBA draft on June 25, Insider digs deep with the D.R.A.F.T. Initiative. Make sure to check out our hubs for pick-based and team-based analysis, as well as the methodology behind our research.
THE D.R.A.F.T. INITIATIVE
MORE DRAFT COVERAGE