Discussion
D.R.A.F.T. Initiative: School's out
Which colleges cultivate the best NBA talent? Let's go inside the numbers.
Updated:
June 11, 2009, 10:45 PM ET
By
Elena Bergeron
| ESPN The Magazine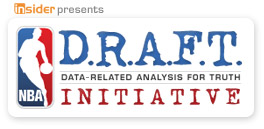 In the lead-up to the NBA draft on June 25, Insider digs deep with the D.R.A.F.T. Initiative. Make sure to check out our hubs for pick-based and team-based analysis, as well as the methodology behind our research.
THE D.R.A.F.T. INITIATIVE
MORE DRAFT COVERAGE